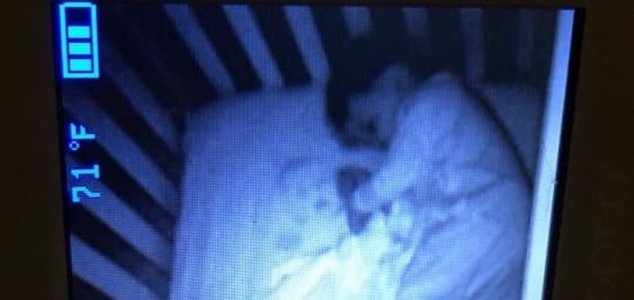 The 'ghost baby' wasn't quite what it seemed.

Image Credit: Facebook / Maritza Elizabeth
Maritza Elizabeth was so freaked out that she couldn't sleep after spotting the ghostly infant on her baby cam.
The 32-year-old mother-of-one, who hails from Naperville, Illinois, had been watching her young son sleeping on Thursday evening when she spotted something strange on the baby monitor.
Right there in the crib next to the youngster was what appeared to be the ghostly visage of another baby mere centimeters from her son's face.
Freaked out by what she was seeing, Maritza grabbed a flashlight and quickly headed to his room to investigate but was unable to find anything untoward.
She was so taken aback by the mystery that she was barely able to sleep the entire night.
It wasn't until the following morning that an explanation would present itself - the "ghost baby" was in fact nothing more than a picture on the label showing through from the mattress underneath.
"It turns out my husband just forgot to put the mattress protector on when he changed the sheets," she wrote on Facebook. "I could kill him."
Source: iheart.com | Comments (44)
Similar stories based on this topic:
Tags: Ghost, Baby