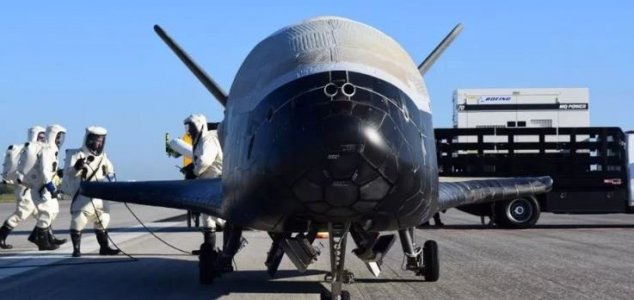 It's back... again... but what has it been doing this time ?

Image Credit: US Air Force
The US military's notoriously secretive miniature space shuttle is back and nobody knows what it has been up to.
Originally designed to repair satellites before NASA discontinued the project and passed it over to the US Department of Defense back in 2004, the mysterious X-37B has since embarked on several top secret space missions lasting months or even years at a time.
Exactly what it gets up to in orbit high above the Earth however remains unclear, with official statements suggesting only that it is involved in testing out experimental technologies.
This time around it managed to break its previous record by spending a whopping 780 days in space.
"With a successful landing today, the X-37B completed its longest flight to date and successfully completed all mission objectives," said Randy Walden of the Air Force Rapid Capabilities Office.
"This mission successfully hosted Air Force Research Laboratory experiments, among others, as well as providing a ride for small satellites."
One of the experiments believed to have been a part of the mission was the US Air Force Research Laboratory's second Advanced Structurally Embedded Thermal Spreader (ASETS-II) which was designed to test the performance of an oscillating heat pipe in the environment of outer space.
"The X-37B continues to demonstrate the importance of a reusable spaceplane," said Air Force Secretary Barbara Barrett.
Not everyone however is convinced that the X-37B has simply been testing out technology, with conspiracy theorists suggesting that it may be involved in spying operations for the US government.
Given the time it's been up there, such activities are certainly not outside the realms of possibility.
As things stand however, it seems unlikely that such a purpose will ever be disclosed to the public.
Source: npr.org | Comments (4)
Similar stories based on this topic:
Tags: X-37B