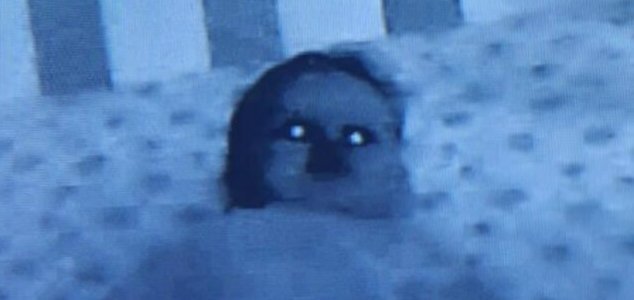 Don't worry - this baby isn't actually demonic... probably.

Image Credit: Twitter / @PassionPopSoc
When a couple recently acquired a baby monitor, the image it produced wasn't quite what they were expecting.
It might look like something out of the latest installment of the 'Paranormal Activity' movie series, but this still image of a baby lying in his crib - complete with eerie glowing eyes - is actually the real deal.
It was captured recently through a newly installed baby monitor and posted up on Twitter with the tongue-in-cheek caption - "We got a new video baby monitor and I think that was a mistake."
Within days, the image had racked up over 400,00 likes with other Twitter users referring to it as a "possessed baby" and likening it to something out of the
Silent Hill
video game series.
"I hate everyone who liked this because now I will have nightmares. Thank you," wrote one user.
Of course the baby in the picture is actually completely normal - it's unsettling appearance is simply down to the way the shadows are falling on its face.
This didn't stop the parents from receiving more than 85,000 replies, however.
"A lot of people are giving me legit advice here, which I appreciate but this was a joke," they wrote.
The story has been likened to that of Maritza Elizabeth who sparked a similar social media reaction after
posting up a photograph
of her baby accompanied by the image of a ghostly infant.
It wasn't until the following morning that an explanation would present itself - the "ghost baby" was in fact nothing more than a picture on the label showing through from the mattress underneath.
Source: Unilad.co.uk | Comments (7)
Similar stories based on this topic:
Tags: Baby