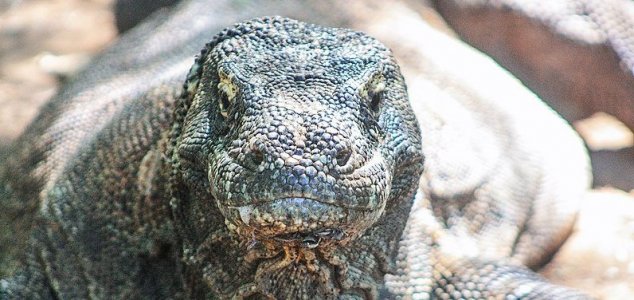 Komodo dragons are huge and potentially deadly.

Image Credit: CC BY-SA 4.0 Alibasdaysar
A large lizard was recently caught on camera emerging from the water with a rather unusual piece of headwear.
Measuring up to 3 meters long and weighing in at up to 70kg, the Komodo dragon, which can be found on several islands in Indonesia, is the world's largest living lizard species.
Although they typically don't attack humans, these powerful lizards have been attributed with several fatalities. Their main diet is carrion which they are able to locate using their strong sense of smell.
As evidenced by this latest video, they will also sometimes dine on the meat of turtles.
The footage, which has proven popular since appearing online, shows a Komodo dragon ambling up a tropical beach with its head stuck firmly inside a large turtle shell.
The men behind the camera can be heard laughing at the unusual spectacle.
Fortunately the lizard isn't stuck for long as it is soon able to shed its unusual choice of headwear.
You can check out the video for yourself below.
Source: Business Insider | Comments (2)
Tags: Komodo Dragon, Turtle