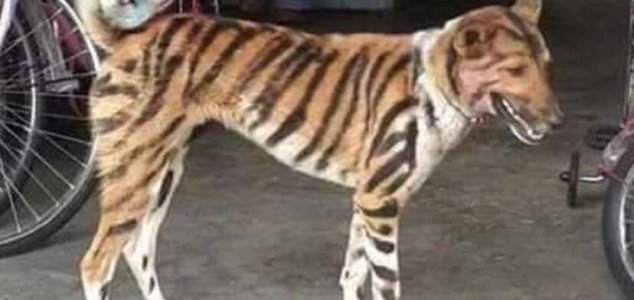 Beware of the tiger dog.

Image Credit: Twitter / @mangalpady
A farmer in India has come up with a novel new way of stopping monkeys from damaging his crops.
For thousands of years, farmers around the world have been using scarecrows (a decoy mannequin typically in the shape of a human) to protect their crops from birds.
In India however, the threat often comes, not from birds, but from monkeys.
One farmer from Shivamogga, Karnataka recently decided to take matters into his own hands after being inspired by another farmer who had been successful keeping the pesky primates away using a scarecrow in the shape of a tiger near Bhatkal in Uttara Kannada district.
He initially attempted to do the same, but quickly realized that it wouldn't be enough.
The solution he ultimately came up with was as ingenius as it was bizarre - painting tiger stripes on his dog so that the canine could wander around the farm scaring away the monkeys.
Not only was the paint job suitably impressive, but it also seemed to be quite effective.
Whether painting dogs to look like tigers is a tactic that will catch on however remains to be seen.
Source: Unilad.co.uk | Comments (4)
Similar stories based on this topic:
Tags: Tiger, Dog