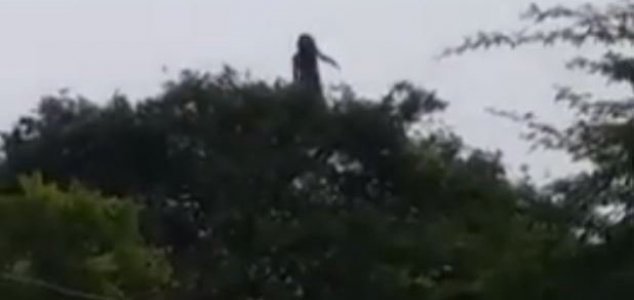 Could this be La Llorona ?

Image Credit: Twitter
An eerie video clip of the legendary 'wailing ghost' of Latin American folklore has recently appeared online.
The footage, which has been picked up by numerous Spanish language news outlets, was reportedly filmed in Cordoba, Colombia and shows a female figure at the top of a large tree.
The woman appears to move her arms around as though dancing or performing some sort of ritual.
In the background, a dog can be heard howling mournfully over and over again.
Little seems to be known about the circumstances surrounding the video, however some have declared the mystery figure to be 'La Llorona' - an infamous wailing ghost.
The story goes that after catching her husband with another woman, La Llorona drowned her two sons in a river before drowning herself. She was subsequently refused entry to heaven until she found the souls of her children and thus was doomed to walk the Earth, wailing in anguish and torment.
Some say that the ghost has even been known to kidnap and drown other children as well.
According to reports, the footage has spooked some locals to such an extent that they are hesitant to even leave their homes.
While it seems unlikely that it actually shows La Llorona, the video is still a bit strange - why is there a woman dancing around at the top of a tree ? Who is she and how did she get up there ?
Could it be some sort of puppet ?
Source: Publimetro.com.mx | Comments (20)
Tags: La Llorona