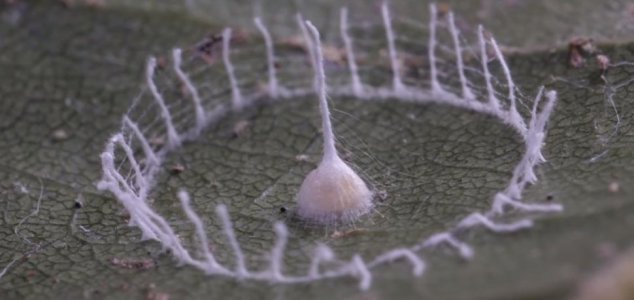 This is one strange spider web.

Image Credit: YouTube / The Jungle Diaries / Phil Torres
Remarkable silk structures created by an unknown species of spider have been puzzling scientists for years.
Consisting of a tall tower surrounded by a fence-like ring of connected strands, these tiny structures were first discovered in the Amazon rainforest in 2013 and have remained an enigma ever since.
The central column appears to be a nest containing spider eggs, however nobody has been able to determine the purpose of the henge-like structure that the spider builds around the outside.
The whole thing is also very tiny and could easily fit onto the tip of your finger.
Now tropical entomologist and science communicator Phil Torres has uploaded a new video showing these mysterious silk structures in a higher resolution than ever before.
"It's a thing that keeps me up at night, because it's so annoyingly hard to find," said Torres. "Despite having seen it in so many places I go, the next time, it's like it was never there at all."
"We have a pretty good idea that they're all over the Amazon basin, in places where only entomologists are looking."
In January 2019 he had traveled to 'Silkhenge Island' where as many as 50 of them had been found several years prior, however despite his best efforts he was unable to find a single one.
It wasn't until several months later when he was leading a tour in a nearby region of rainforest for travel website Atlas Obscura that he finally found what he was looking for.
You can check out the footage from both trips below.
Source: Live Science | Comments (5)
Tags: Silkhenge, Spider