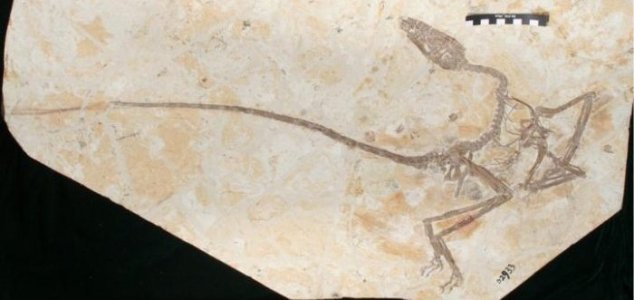 The fossil is remarkably well preserved.

Image Credit: San Diego Natural History Museum
Palaeontologists have compared the feathers of a 120 million-year-old dinosaur to those of modern birds.
Unearthed in China 10 years ago, the newly described species
Wulong bohaiensis
(meaning 'dancing dragon') is a curious mix of bird and dinosaur - a 'phantom' evolutionary leap between the two.
Thought to have been somewhere between a raven and a crow in size, this unusual species would have looked a lot like a small feathered velociraptor.
"The specimen has feathers on its limbs and tail that we associate with adult birds, but it had other features that made us think it was a juvenile," said paleontologist Ashley Poust from San Diego Natural History Museum.
The discovery indicates that many of the features we typically associate with modern birds may have evolved much earlier than previously believed - perhaps even before the dinosaurs themselves.
"The new dinosaur fits in with an incredible radiation of feathered, winged animals that are closely related to the origin of birds," said Poust.
"Studying specimens like this not only shows us the sometimes surprising paths that ancient life has taken, but also allows us to test ideas about how important bird characteristics, including flight, arose in the distant past."
Source: Science Alert | Comments (0)
Similar stories based on this topic:
Tags: Dinosaur