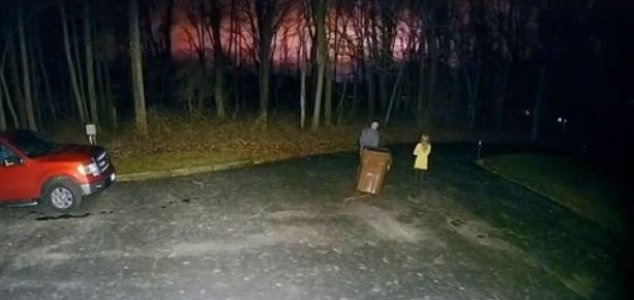 The phenomenon lit up the sky in spectacular fashion.

Image Credit: Facebook / Tim Walker
Recently released footage shows the moment the skies over Bethel, Ohio suddenly lit up in multiple colors.
According to reports, the phenomenon, which took the form of a series of bright multicolored flashes, occurred without warning just before 7pm on January 12th.
One witness, Tim Walker, managed to capture the spectacle on his doorbell cam.
"Anybody else see this tonight ?" he wrote on Facebook.
"The sky was flashing pink and purple - super bright. Thought it might be lightning, but it's fairly cold (40 degrees), and there was no thunder... It was crazy - super bright."
His daughter, who was also there at the time, told reporters that the event had scared her.
"I thought it was an explosion when I first saw it, so it made me really nervous," she said.
Elsewhere, several other people in the area also wrote about witnessing the phenomenon.
"So many people are posting about it in Bethel and Amelia," said resident April Pierce. "Some people said their power even flickered on and off."
Another witness, Kat Carmosino, even reported vibrations and a strange humming sound.
"We were in between Amelia and New Richmond, when the power went out there was the light show," she said. "The floor was vibrating and there was a humming noise. It was really odd."
So far however, no explanation for the phenomenon has been found.
Source: Kentucky.com | Comments (14)
Similar stories based on this topic:
Tags: Ohio, Flashes