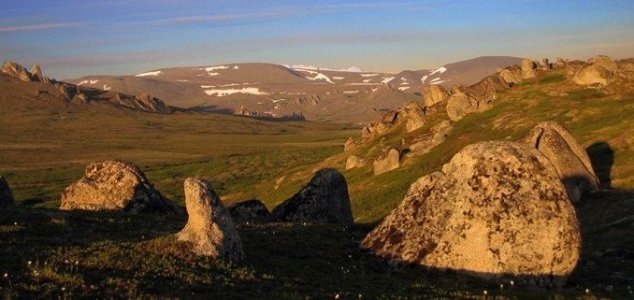 The first Americans traversed a landscape much like this.

Image Credit: NPS - PD
Human remains dating back 10,000 years have helped to rewrite the history book on America's earliest settlers.
Discovered in an underwater cave known as Chan Hol near the city of Tulum, Mexico, the skeleton challenges the traditional view that the first settlers arrived in the Americas as a single population.
An analysis has revealed that the skeleton, which belonged to a 30-year-old Paleoindian woman, has a skull that differs from those of other skeletons that have been found from the same time period, suggesting "at least two morphologically different Paleoindian populations."
The first group of humans to arrive in the Americas crossed over a land bridge that connected Asia to North America during the last ice age around 12,000 years ago.
"The Tulum skeletons may indicate that either more than one group of humans originally reached the American continent from different geographical points of origin, or that there was sufficient time for a small group of early settlers living in isolation on the Yucatan Peninsula, to develop a different skull morphology," said Dr Silvia Gonzalez from Liverpool John Moores University.
"In either case, the early settlement history of the Americas appears to be more complicated and may date back thousands of years earlier than commonly believed, according to the new human morphology data."
Source: Evening Standard | Comments (12)
Tags: Americas