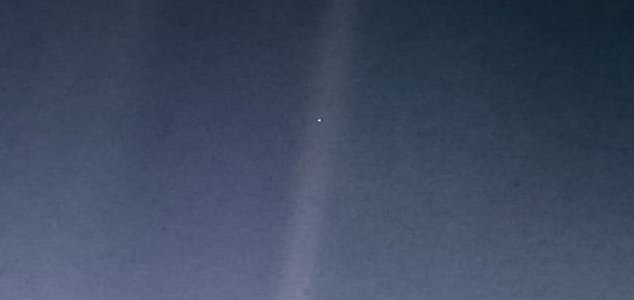 Our planet - a mote of dust suspended in a sunbeam.

Image Credit: NASA
This humbling image of our world taken from far away has been honored this week with a modern remaster.
On February 14th, 1990, the Voyager 1 space probe turned its cameras back towards the planet of its origin and snapped a photograph from a distance of 3.7 billion miles.
The resulting image, which shows the Earth as a tiny speck against the emptiness of space, was dubbed the 'Pale Blue Dot' and has long been regarded as one of the most important and humbling space images ever taken.
Its significance was best described by the words of the late astronomer Carl Sagan.
"
Look again at that dot
," he wrote. "
That's here. That's home. That's us.
"
"
The aggregate of our joy and suffering, thousands of confident religions, ideologies, and economic doctrines, every hunter and forager, every hero and coward, every creator and destroyer of civilization, every king and peasant, every young couple in love, every mother and father, hopeful child, inventor and explorer, every teacher of morals, every corrupt politician, every 'superstar,' every 'supreme leader,' every saint and sinner in the history of our species lived there--on a mote of dust suspended in a sunbeam. On it everyone you love, everyone you know, everyone you ever heard of, every human being who ever was, lived out their lives.
"
Now in celebration of this iconic image, NASA has released a newly remastered version which shows the original Pale Blue Dot in more clarity than ever before.
"Every time I give a climate talk and I talk about what you're doing now to make a change - I show this picture because it shows the Earth is an isolated speck," said Garry Hunt - one of the original members of Voyager's imaging team.
"This tiny blue dot is the only place we can possible live, and we're making a jolly good mess of it."
Source: BBC News | Comments (1)
Similar stories based on this topic:
Tags: Earth