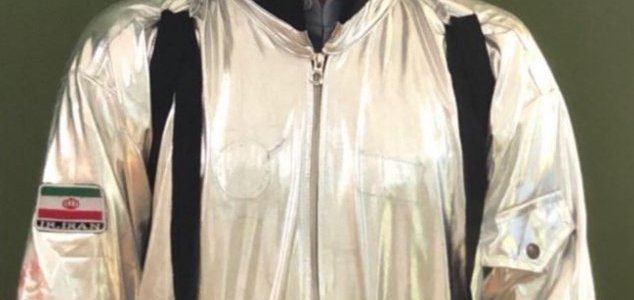 You definitely wouldn't want to wear this to go into space.

Image Credit: Twitter / @azarijahromi
A prominent Iranian official recently Tweeted a rather questionable photograph of Iran's new 'space suit'.
In another blow to the country's struggling space endeavours, Iran's Minister of Information and Communications Technology Mohammad-Javad Azari Jahromi recently managed to draw some unwanted attention after Tweeting a photo of a fake space suit with the hashtag '#brightfuture'.
It didn't take long for eagle-eyed social media users to point out that the rather shoddy looking space suit bore an uncanny resemblance to a children's costume that was on sale on Amazon for $20.
Such suspicions were confirmed when it was noted that, on closer inspection, it was even possible to see where someone had removed the NASA logo from the front of the suit.
The Tweet was apparently intended to be serious, with Jahromi telling a group of students mere hours later that Iran's dream was to plant a flag on the surface of the Moon.
It's possible that the suit was meant more as a symbolic gesture of this ambition rather than as a demonstration of an actual spacesuit - however the decision to post it up was still a bit strange.
Unsurprisingly, social media users have made light of the situation by producing a number of memes and Photoshopping the Iranian suit onto photographs of Neil Armstrong and Buzz Aldrin.
As for Iran's space ambitions - sadly things haven't been going too well in recent years with a satellite launch back in January 2019 failing to reach orbit.
It will definitely be some time yet before Jahromi's Moon-landing vision comes to fruition.
Update:
Jahromi has since issued an apology to "the people and space scientists" of Iran, stating that his department's advertising team "undeniably made a mistake in choosing the image."
Source: Polygraph.info | Comments (9)
Similar stories based on this topic:
Tags: Iran, Astronaut