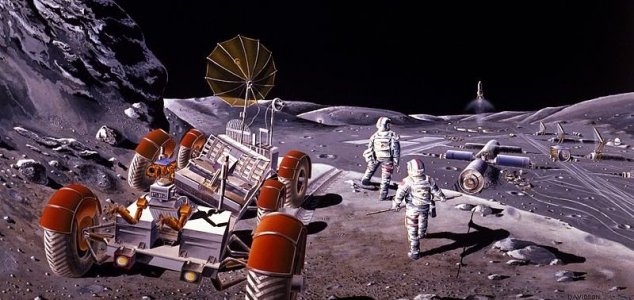 Is human urine really a viable construction material ?

Image Credit: NASA/Dennis M. Davidson
The urine of the first lunar settlers could be used as a construction material to help build new structures.
With plans to send humans back to the Moon in full swing (or at least they were before the coronavirus situation), scientists have been working on ways to construct habitable buildings on the lunar surface.
Actually launching construction materials from the Earth all the way to the Moon would be extremely expensive and inefficient, which is why a lot of the focus has been on finding ways to use the Moon's own natural resources - especially water and regolith - wherever possible.
Now researchers have identified another resource that should be available in copious quantities once the first humans arrive on the lunar surface - human urine.
With it, they argue, it should be possible to create a type of plasticiser for construction purposes.
"To make the geopolymer concrete that will be used on the Moon, the idea is to use what is there: regolith (loose material from the Moon's surface) and the water from the ice present in some areas," said Ramon Pamies, a materials scientist from the Polytechnic University of Cartagena.
"But moreover, with this study we have seen that a waste product, such as the urine of the personnel who occupy the Moon bases, could also be used."
"The two main components of this body fluid are water and urea, a molecule that allows the hydrogen bonds to be broken and, therefore, reduces the viscosities of many aqueous mixtures."
The researchers have been conducting tests to determine if urine-infused building materials could actually survive the conditions on the Moon and so far the results look promising, however there is still a long way to go before something like this could be applied in practice.
Source: Science Alert | Comments (11)
Similar stories based on this topic:
Tags: Astronaut, Moon