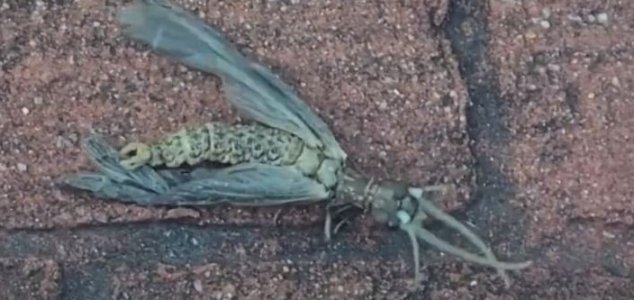 What exactly is this thing ?

Image Credit: YouTube / Nicole Doctor / Pen News
Nicole Doctor had been walking her dog in Atlanta, Georgia when she encountered this peculiar creature.
The bizarre insect, which featured a long green body, folded wings and a number of long tentacle-like feelers protruding from its head, was unlike anything that she had ever seen before.
"It was squirming around violently so it immediately captured my attention when I was six feet away from it," she said. "When I got closer I noticed ants crawling over its back, probably trying to eat it."
Grabbing her phone, she captured footage as the creature squirmed around on the concrete.
"Its eyes were jutting from the sides of its head, similar to a hammerhead shark," she said. "The wings dragged along the ground, wet and clinging to themselves."
"I almost thought the insect was a huge mutant dragonfly when I saw the wings."
The video quickly racked up thousands of views on social media with users debating over exactly what type of insect this could be.
Most concluded that it was most likely a dobsonfly.
"That is indeed the eastern dobsonfly," said Lyle Buss from the University of Florida's Insect Identification Lab. "That bug is not doing very well."
By the time Nicole had passed the same spot again the following day, the insect was gone.
Source: YouTube | Comments (6)
Similar stories based on this topic:
Tags: Insect