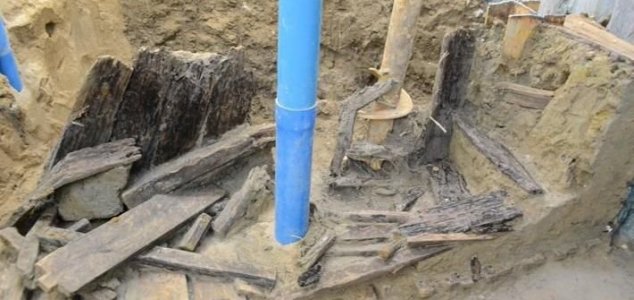 Much about the tunnel remains unexplained.

Image Credit: Museum of Copenhagen
Archaeologists have unearthed a mysterious 19th-Century tunnel hidden beneath a station in Denmark.
The passageway, which was found underneath Osterport Station in Copenhagen, is square-shaped and measures 3ft wide and 3ft tall - barely enough for someone to squeeze through.
Held together with wooden beams, the tunnel appears to pass underneath what was once Copenhagen's defense ramparts - suggesting that it may have been an escape passage.
"When you find such a tunnel, it gives a rush to the body," said archaeologist Christian Andreas Flensborg. " You ask yourself how extensive these systems are and are there many more tunnels."
So far around 10ft of tunnel has been excavated, however it is thought to be much longer than that.
"The tunnel is seemingly cut off by the rampart at Osterport Station, but the other end continues under Ostbanegade," said Flensborg. "We don't know if it turns or where it ends."
"It's a mystery."
Source: Smithsonian Magazine | Comments (12)
Similar stories based on this topic:
Tags: Tunnel, Denmark