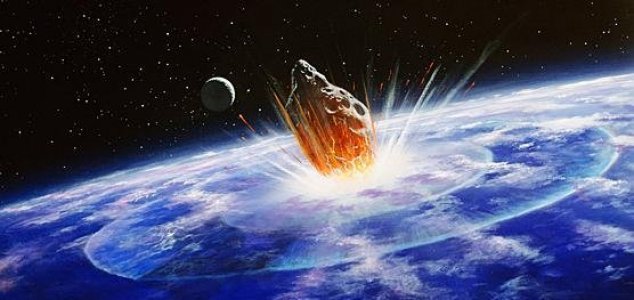 The dinosaurs didn't stand a chance.

Image Credit: NASA
The destructiveness of the asteroid that wiped out the dinosaurs wasn't just down to its large size.
66 million years ago, a huge space rock slammed into the Earth. It was an event that caused such extreme and widespread devastation that it would irreparably change our planet forever.
Scientists estimate that as much as 75% of all species on Earth were wiped out by the disaster.
Much of this was due to the billions of tons of sulphur kicked up by the impact which blotted out the Sun and triggered a lengthy nuclear winter that made survival extremely difficult.
Now according to a new study, it seems that the reason the asteroid proved quite so deadly was because it slammed into the Earth at just the right angle to maximize its destructiveness.
"For the dinosaurs, the worst-case scenario is exactly what happened," said lead researcher Professor Gareth Collins from Imperial College London.
"The asteroid strike unleashed an incredible amount of climate-changing gases into the atmosphere, triggering a chain of events that led to the extinction of the dinosaurs. This was likely worsened by the fact that it struck at one of the deadliest possible angles."
"Our simulations provide compelling evidence that the asteroid struck at a steep angle, perhaps 60 degrees above the horizon, and approached its target from the north-east."
"We know that this was among the worst-case scenarios for the lethality on impact, because it put more hazardous debris into the upper atmosphere and scattered it everywhere - the very thing that led to a nuclear winter."
Source: Imperial College London | Comments (2)
Similar stories based on this topic:
Tags: Asteroid, Dinosaurs