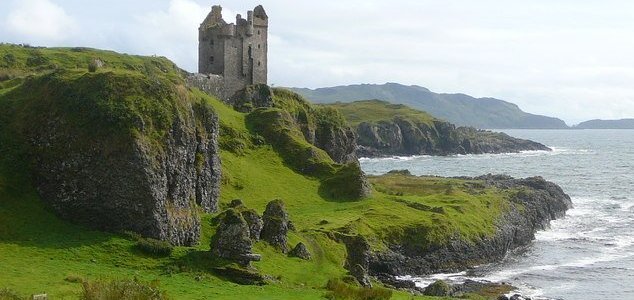 Gylen Castle, Kerrera.

Image Credit: CC BY-SA 2.0 Colin Park
Scientists from Texas have identified the tiny fossil of a millipede that lived more than 425 million years ago.
The remarkable discovery, which was made on the island of Kerrera in the Scottish Inner Hebrides, is older than any other known insect or arachnid and dates back to the mid-Paleozoic era.
To find it, researchers from the University of Texas, Austin extracted microscopic minerals from the rock before using a low-tech method (gluing a pin to the tip of a pencil) to locate any fossils.
The millipede is around 75 million years older than the previous oldest known insect.
The species is thought to have transitioned from living in lakes to living in forest environments within the relatively short time frame of around 40 million years.
"It's a big jump from these tiny guys to very complex forest communities, and in the scheme of things, it didn't take that long," said Michael Brookfield from the University of Massachusetts Boston.
"It seems to be a rapid radiation of evolution from these mountain valleys, down to the lowlands, and then worldwide after that."
The oldest known stemmed plant - which was also found in Scotland and is the same age as the millipede fossil - has also been identified using a similar method.
Source: Herald Scotland | Comments (1)
Similar stories based on this topic:
Tags: Insect