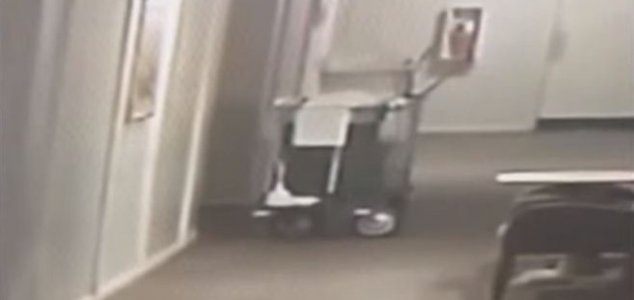 Is there a ghost in the Eagle's Nest Hotel ?

Image Credit: Facebook / Jus Jenn
Footage captured earlier this month on a hotel CCTV camera seems to show a ghostly figure in a hallway.
The video, which was originally uploaded on Facebook by user 'Jus Jenn', was recorded by a person standing in front of a security monitor while the actual clip itself was replayed on the screen.
The 'ghost' shows up between a cart of cleaning supplies and the door of an elevator on the left.
The footage is certainly interesting - the shadow is distinctly human-like and moves back and forth at some speed, seemingly without anything or anyone else moving nearby.
According to a YouTube reupload of the video, the phenomenon occurred at the Eagle's Nest Hotel in Quincy, Illinois and was spotted after items had gone missing from the supplies cart.
The elevator door from which the shadow seems to come and go was reportedly closed at the time because if it had been open, a light would have come on.
Apparently staff at the hotel have been plagued by paranormal activity for some time.
But does this footage really show a ghost or could something else be going on ?
It's worth noting the possibility that the shadow is being cast by someone walking along a corridor behind or to the left of the camera (or moving in such a way so as to stage the observed movement).
The possibility that the whole thing could be a hoax should not be discounted either.
You can check out the footage for yourself below.
Source: Facebook | Comments (69)
Similar stories based on this topic:
Tags: Ghost, Shadow