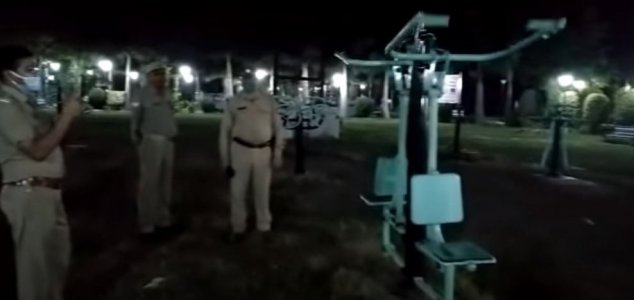 What is causing this equipment to move ?

Image Credit: YouTube / Entertainment Adda
Peculiar footage from India shows outdoor gym equipment moving on its own as police officers watch.
The clip, which fits firmly into the 'what the hell is going on here?' category of strange videos, recently went viral after it started circulating on social media and has since become something of a phenomenon unto itself.
It shows what appears to be a fixed piece of outdoor exercise equipment in an open park moving back and forth despite nobody being on it and with no apparent means of movement.
To make matters even more perplexing, several police officers can be seen standing around and filming the spectacle, as though they, too had no idea what was happening.
It isn't clear exactly where the video was filmed either, with some suggesting that it is Japanese Park in Delhi's Rohini area while others claim that it's actually Kanshiram Park in Uttar Pradesh.
There have also been claims that the anomalous movement of the gym equipment was part of a hoax that local law enforcement had been investigating, however it remains unclear who was responsible.
Whatever the case, this is certainly one strange video.
Source: Latestly.com | Comments (21)
Similar stories based on this topic:
Tags: Ghost, Haunting