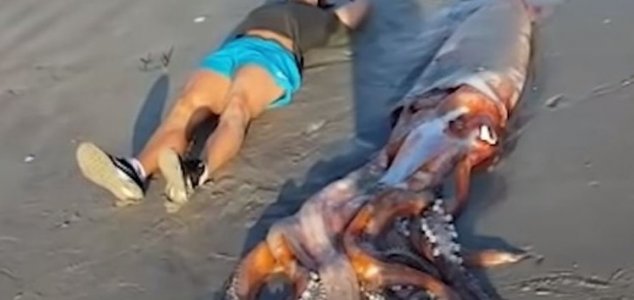 The squid was still alive when it was found.

Image Credit: YouTube / Richard Davies
Beachgoers at St Helena Bay were surprised to discover this giant cephalopod on the sand on Sunday morning.
With a body measuring more than 7ft in length and tentacles a further 8ft-long a piece, the squid, which is estimated to weigh in at up to 300kg, was found washed up on Britannia Bay Beach in St Helena Bay, Western Cape where it soon attracted the attention of local beachgoers.
In one video clip, which can be viewed below, one man films the creature as his friend lies down on the sand next to it, demonstrating just how large its body is compared to an adult human.
It is rare to get such a close-up look at a giant squid because the species lives deep down in the ocean where it is rarely encountered and where studying it alive is very challenging.
It is unclear exactly how this particular individual ended up on the beach.
"It was sad because I could see it was dying," said Richard Davies who filmed the creature.
"It was still pumping out ink and I touched one of its tentacles which sucked onto my hand and I actually had to use some force to remove it."
Source: News24.com | Comments (8)
Similar stories based on this topic:
Tags: Giant Squid