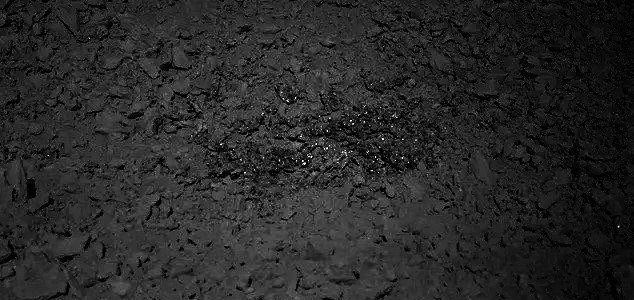 The gel was spotted last year.

Image Credit: CNSA/CLEP/NASA/GSFC/Dan Moriarty
Scientists have revealed what the mysterious gel-like substance found on the lunar surface actually is.
The peculiar substance was first discovered back in September 2019 in the 2,500km-wide South Pole-Aitken basin on the Moon's far side by China's groundbreaking Chang'e 4 lunar mission.
Exhibiting a shape and color that stands out against the surrounding regolith, the gel was described as having "a mysterious luster" and is situated right in the middle of an impact crater.
At the time, it was thought that the gel could actually be a type of dark glass that forms during an asteroid impact - the same glass previously seen by the Apollo 17 astronauts back in 1972.
Some even speculated that it could be some form of previously unseen organic material.
Now a new study by scientists at the Chinese Academy of Sciences has revealed that the substance is in fact "impact melt breccia" - which is made up of rock and mineral fragments melded together.
As previously speculated, it was most likely formed by a meteorite impact on the surface.
"It was formed by impact-generated welding, cementing and agglutinating of lunar regolith and breccia," the researchers wrote.
Source: CNET.com | Comments (3)
Similar stories based on this topic:
Tags: Moon, China, Gel