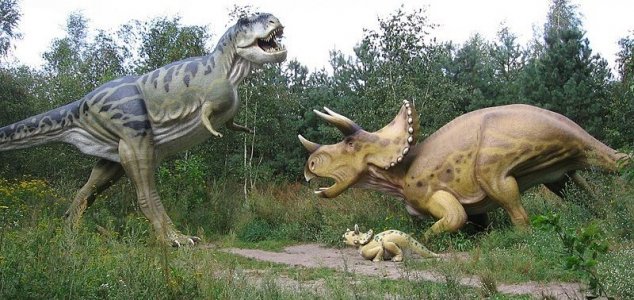 Cancer has been around for a long, long time.

Image Credit: CC BY 2.0 Marcin Chady
Palaeontologists have revealed for the first time that even the dinosaurs suffered from cancer.
The discovery was made in a fossil bone unearthed in Alberta, Canada back in 1989 - the fibula of a four-legged horned dinosaur known as
Centrosaurus apertus
which lived over 76 million years ago.
The researchers noticed straight away that the bone was strangely deformed, but at the time didn't give it too much thought, instead attributing it to a healing fracture.
It wasn't until 2017 when the fossil was noticed by David Evans, chair of vertebrate palaeontology at the Royal Ontario Museum (ROM), that the true significance of the find was realized.
It turned out that this was in fact the first known evidence of dinosaur osteosarcoma - a type of bone malignancy.
The discovery shows that even the dinosaurs were affected by cancer - cementing the possibility that it is a disease that may have been around for almost as long as life itself.
"Most cancers are manifest in soft tissues and are very unlikely to fossilize, making this particular specimen very special," said Evans. "This is the first confirmed case of a malignant cancer in a dinosaur, and one of the only positive diagnoses of this type of horrible disease in the fossil record."
"This remarkable and very rare find shows that no matter how big or powerful some dinosaurs may seem, they were affected by many of the same diseases we see in humans and other animals today, including cancer."
Source: Gizmodo | Comments (1)
Similar stories based on this topic:
Tags: Dinosaur