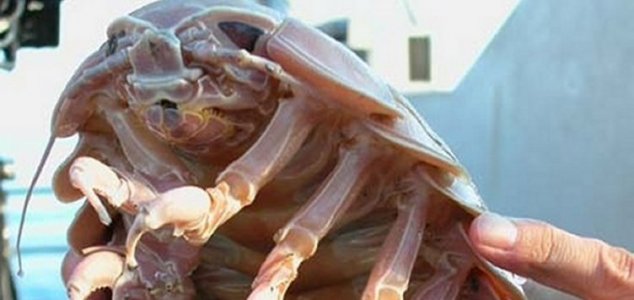 Giant isopods grow to enormous sizes.

Image Credit: NOAA
Researchers in Indonesia have discovered a new species of giant isopod - a bug-like creature the size of a small dog.
Ever picked up a piece of wood outside and found it crawling with woodlice ? Now imagine one of these insects, but enlarged several thousand times - it might sound like something out of a horror movie, but these enormous underwater crustaceans are very much the real deal.
Found deep beneath the waters of the Atlantic, Pacific and Indian Oceans, the giant isopod can grow up to 20 inches in length and is known to feed on carcasses that have floated down to the sea floor.
Now researchers in Indonesia have discovered a specimen of the recently identified
Bathynomus raksasa
isopod - a particular large species referred to as the '
Darth Vader of the Seas
'.
"The staff on our expedition team could not contain their excitement when they finally saw one," the Lee Kong Chian Natural History Museum wrote.
You can check out a photograph of one of the expedition members holding up the creature below.
You certainly won't find one of these under a pile of wood in your garden...
Source: Live Science | Comments (5)
Tags: Giant Isopod