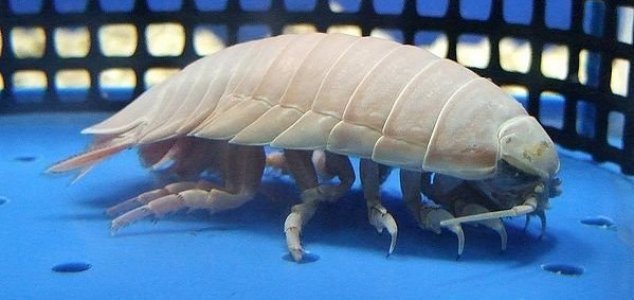 Giant isopods live in the depths of the ocean.

Image Credit: CC BY-SA 2.5 OpenCage
The huge deep sea crustacean was kept at a Japanese aquarium and hadn't eaten for 1,869 days.
The peculiar creature sprung to fame after footage of it appeared online and the story of its sudden refusal to eat went viral. One of nine giant isopods kept at Japan's Toba Aquarium, the last thing it was thought to have eaten was some fish back on January 2nd 2009.
Measuring an average of up to 36cm in length, giant isopods are rarely seen but are thought to be abundant in the cold depths of the Atlantic, Pacific and Indian Oceans. A relative of the common woodlouse, the isopods are of little interest to fishermen and the few that are caught tend to end up being scavenged before they can be reeled in.
"It's sad that we were unable to feed it," said Takeya Moritaki of the aquarium's breeding research department. "I'm grateful to have had it, since it helped to create an opportunity to bring giant isopods into the spotlight."
Source: The Japan News | Comments (21)
Tags: Isopod