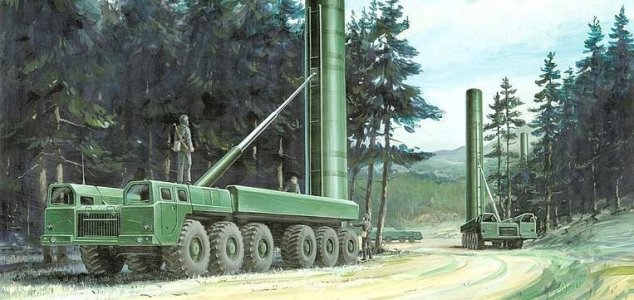 An artist's impression of RSD-10 Pioneer missile launches.

Image Credit: Edward L. Cooper
New details have emerged of a peculiar Cold War-era phenomenon associated with Soviet missile launches.
During the 1980s, US intelligence analysts struggled to explain a peculiar phenomenon known as the 'Dome of Light' that had been observed on multiple occasions in connection with launches of the Soviet Union's RSD-10 Pioneer (or SS-20 Saber) ballistic missiles.
"Although reports differ, most observers describe the phenomenon as a small white sphere on the horizon that expands uniformly outward and upward while maintaining its dome-like shape," reads a redacted document obtained by
The War Zone
through a FOIA request.
"It is initially opaque, but as it expands it becomes transparent, and the stars can be seen through the center of the dome. At full extent it has been reported as being tremendously large, filling more than half of the sky."
The phenomenon was witnessed in 1988 by veteran US Air Force pilot Robert Hopkins who described it as a "translucent, milky white wall" that "covered the entire sky from ground level to as far up as we could see looking out the front windows of the airplane."
To date, no satisfactory explanation for the Dome of Light has ever been found, and while the newly declassified documents discuss the phenomenon in detail, even top intelligence personnel were unable to determine exactly what it was.
One of the most compelling possibilities is that it was some sort of secretive countermeasure designed to stop the US from utilizing anti-missile technologies; it would certainly explain why the phenomenon is so closely associated with Soviet missile launches, however it remains unclear how such a thing could have been achieved at the time.
As things stand, only Russia is likely to know the truth behind this perplexing mystery.
Source: The Drive | Comments (5)
Tags: Dome of Light, Soviet