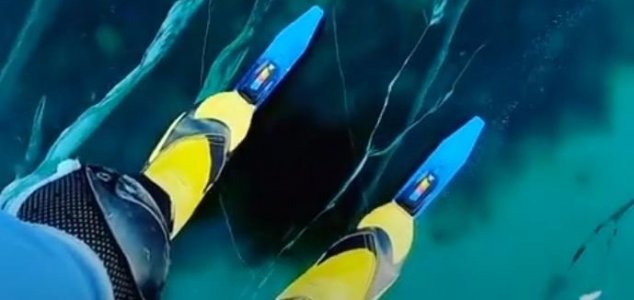 Seriously... don't do this.

Image Credit: YouTube / The Siberian Times / Alexey Kolganov
One daring photographer recorded himself skating over thin ice - quite literally - on the surface of Lake Baikal.
The unnerving video, which was filmed by Alexey Kolganov, shows just what it would be like to skate across the thin ice crust of a frozen Siberian lake with the dark, cavernous depths visible far below.
To make things even more unsettling, the sounds that can be heard as the ice cracks and shifts are nothing if not disconcerting - strange pinging, zooming sounds that seem decidedly alien in nature.
Unsurprisingly, authorities have warned people not to venture onto the lake - which covers an area the size of Belgium - due to the risk of falling through the treacherously thin ice.
"[I wanted to] convey what the sounds are like to a human ear when a person skates, or walks on ice," said Kolganov. "Otherwise it is impossible to catch it with a microphone of an ordinary camera."
"Honestly this is not something extraordinary... you hear these sounds everywhere on the lake, you just need to move away from tourist paths, and listen to this endlessly."
Suffice to say, don't try this at home.
Source: Siberian Times | Comments (11)
Similar stories based on this topic:
Tags: Siberia