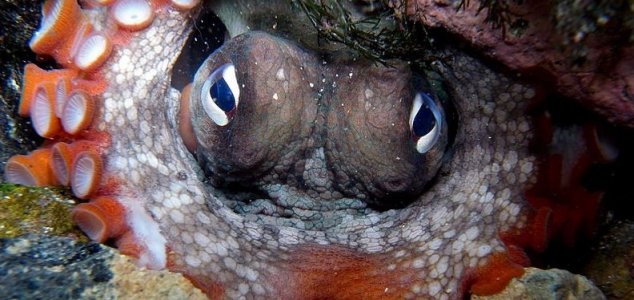 Just how clever can octopuses get ?

Image Credit: CC BY-SA 4.0 Sylke Rohrlach
It is a well known fact that the humble octopus is clever as far as animals go, but is there a limit to its potential?
Despite their small size and alien-like tentacles, octopuses are remarkably brainy - as evidenced by studies that have recorded them manipulating objects and using tools to solve simple problems.
Octopus intelligence is particularly interesting to science because it has evolved completely independently to our own, but just how intelligent could octopuses become if they were left to their own devices for a few million more years of time and evolution ?
In a recent article for
The Conversation
, Prof Culum Brown from Macquarie University attempted to answer this very question after a 14-year-old school pupil wrote a letter asking if octopuses could one day become intelligent enough to take over the world and travel into space.
One of the biggest arguments against octopuses evolving to human-like levels of intelligence, he noted, was that they simply don't live very long, with even the largest species living only 5 years.
They also have the disadvantage of evolving extremely slowly compared to humans.
"There are about 300 different species of octopus, which have been around for at least 300 million years," Brown wrote. "In that time, they haven't changed much."
"Modern humans, by comparison, have only existed for 200,000 years and in that time, have taken over the planet (and badly damaged it in the process)."
Ultimately then, octopuses are somewhat restrained by their own biology.
"So, the first item on an evil octopus to-do list for taking over the world is to live well beyond your first birthday," Brown wrote. "Second on the list might be to develop 'cumulative culture' by learning from others like humans do. We already know an octopus can learn by watching other octopuses, but as yet we don't have evidence of culture."
"Very few creatures display intelligence comparable to humans and understanding why is a long-standing scientific question. The most likely explanation is that brain tissue is extremely expensive to maintain, in terms of energy required to keep brain cells firing."
"So there need to be big benefits to justify the expense."
All things considered, it seems unlikely that we'll be seeing spacefaring octopuses anytime soon.
Source: The Conversation | Comments (27)
Similar stories based on this topic:
Tags: Octopus