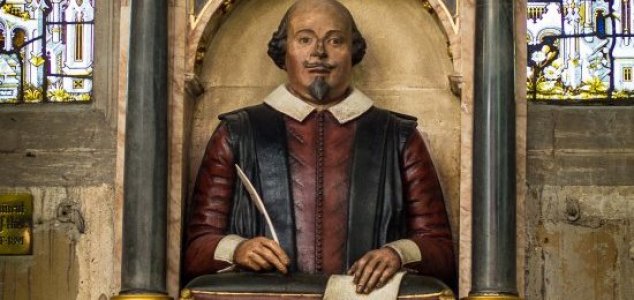 Is this what Shakespeare really looked like ?

Image Credit: CC BY-SA 4.0 Sicinius
Researchers believe that they have identified the most accurate depiction of the world-famous playwright.
While Shakespeare's literary talents are well known, one aspect of his life that has remained less clear over the years is his physical appearance.
Numerous depictions of the man himself exist, ranging from paintings and drawings to sculptures and statues, but they don't all look alike and historians have long struggled to determine which of them represents the most accurate depiction of him.
The two portraits considered the most definitive were actually created after he had died.
Now however, it turns out that the effigy found above his grave at the Holy Trinity church in Stratford-upon-Avon might actually be the true 'definitive' likeness of the late bard.
Originally believed to have been an inaccurate posthumous memorial, the sculpture - once described as a "self-satisfied pork butcher" - is now thought to have been commissioned by Shakespeare himself and was made by someone who knew him personally.
"It is highly likely that Shakespeare commissioned the monument," said Prof Lena Cowen Orlin.
"It was done by someone who knew him and had seen him in life. We can think of it as a kind of life portrait, a design for death that gives evidence of a life of learning and literature."
The sculpture's creator was Nicholas Johnson - a tomb-maker.
"This is truly significant," said Shakespeare researcher Dr Paul Edmondson. "We can therefore say that is how Shakespeare wanted to be represented in our memories. This is massive."
"It is compelling new light on what he looked like and how he operated."
Source: The Guardian | Comments (3)
Tags: Shakespeare