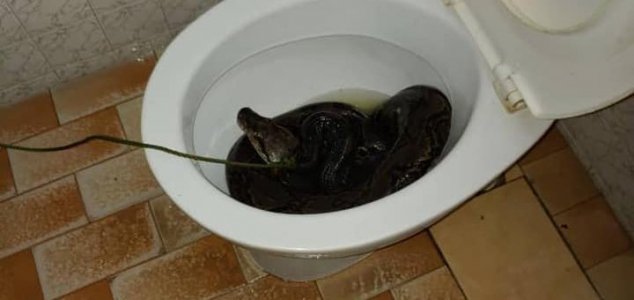 Image Credit: Facebook / Balai Bomba Dan Penyelamat Iskandar Puteri
An unfortunate man in Malaysia got a rather rude awakening when he got up to use the bathroom recently.
The unfortunate incident, which happened at a house in the outskirts of Iskandar Puteri, saw a snake measuring a whopping 10ft in length emerge from the u-bend of a regular household toilet.
After discovering that it had set up home in the bowl, the house's occupants called up the fire brigade who arrived with special equipment to help remove the intruder.
"The python was successfully caught using a snake pole and has since been released from the housing area," said fire chief Khairi Zainudin.
"Snakes usually come out during this hot season to spot for cool and wet spots."
If you do happen to live in Malaysia, checking the toilet before sitting down would be advised.
Source: Indy100.com | Comments (11)
Similar stories based on this topic:
Tags: Snake, Toilet