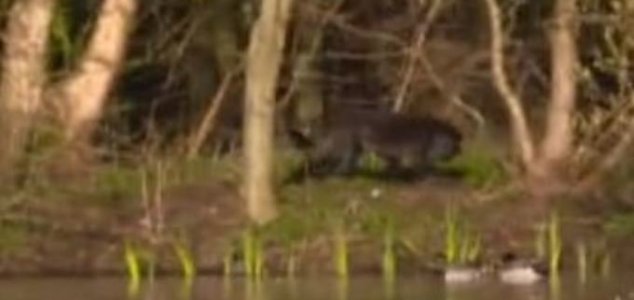 What creature is this ?

Image Credit: ITV / Good Morning Britain
A creature resembling a panther or puma made an unexpected appearance during a live TV segment.
Viewers of 'Good Morning Britain' - a popular morning television show in the UK - were left scratching their heads earlier today when they spotted something unusual skulking in the background of a live segment which was being filmed at the Rickmansworth Aquadrome in Hertfordshire, England.
During one shot, which saw the camera zoom in on a swan, it was possible to see a large black creature emerging from behind a tree in the background before heading off to the right.
Presenter Andi Peters didn't notice it himself at the time, but when viewers called in to the show to comment on the animal, he mentioned it in a later segment which was also filmed at the lake.
"I have some breaking news of my own," he said.
"Earlier today we were in this very spot on Bury Lake in Hertfordshire, viewers said that whilst I was doing the competition they spotted a black shaped creature on the banks, that then walked off."
"We have had a look for you guys, we have looked around, we can't see anything but obviously you all spotted something on the shores. Could it have been someone walking a dog, the word 'wolf' has been used. I cannot confirm or deny."
By far the most common suggestion from viewers was that the creature was a large black cat - possibly a panther or puma - something that obviously shouldn't have been there.
Others, meanwhile, insisted that it was simply a domestic dog.
You can check out the clip for yourself below.
Source: Watford Observer | Comments (14)
Tags: Alien Big Cat