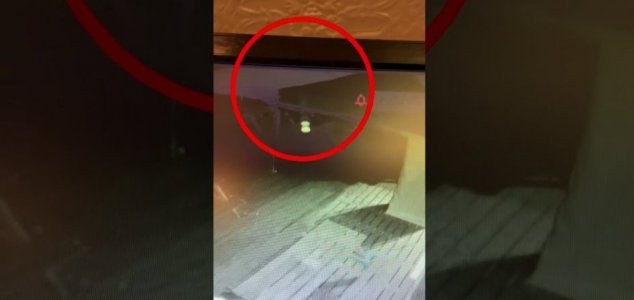 What exactly is this thing ?

Image Credit: YouTube / Nicole Regan
The intriguing anomaly, which looks like a figure with two green orbs, was filmed at the Twa Dogs Inn, England.
The phenomenon was first noticed by Sharon Hankin, an employee who has worked at the pub for eight years. She had been watching the CCTV monitor when something caught her attention.
"I had been watching it all night on CCTV and thought: 'What on earth is that?'" she said.
"I took a video of the CCTV footage on my phone. You can see the outline of a body and it looks like its got a head and legs and at the end you can see an arm swinging."
When landlord Peter Harding went to investigate the beer garden, he found that nothing was there.
"With COVID, we have had to have table service, so we have decked out an area at the side of the pub and put artificial grass down and put up two marquees," he said.
"It was going up against one of the marquees, so whether we have disturbed something in there (the beer garden), I don't know. It looks like something really bright green and fluorescent."
The building itself has something of a haunted reputation, with several employees reporting strange sightings over the years as well as the sounds of disembodied footsteps.
Could this footage show the pub's resident ghost or is there a more conventional explanation ?
You can check out the video for yourself below.
Source: cwherald.com | Comments (14)
Similar stories based on this topic:
Tags: Ghost