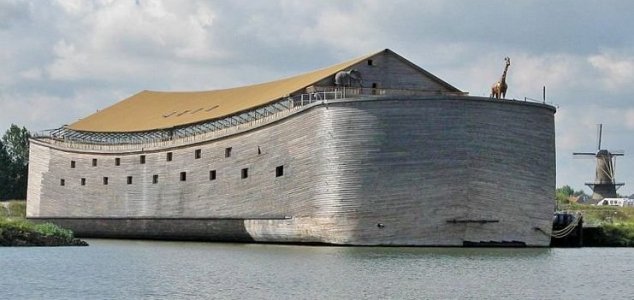 The full-size version of the replica ark.

Image Credit: CC BY-SA 3.0 Ceinturion / Ark of Noah Foundation
A giant wooden replica of the biblical vessel has been detained where it is docked in Ipswich, England.
Measuring 230ft in length, the unique vessel, which was built after the idea came to Dutch millionaire Johan Huibers in a dream, is the smaller of two replica arks that he built in the Netherlands.
It was later purchased for 3 million Euros by Dutch TV and theater producer Aad Peters who had intended for it to become a 'talking point' for people from a wide range of different backgrounds.
Inside, the vessel is fitted out with an array of biblical museum exhibits intended for visitors to browse.
Unfortunately, however, it doesn't look as though it will be going anywhere anytime soon, as evidenced by the response to a recent Freedom of Information request by the East Anglian Daily Times.
According to the Maritime and Coastguard Agency (MCA), the huge wooden vessel is 'unsafe' and as such has been detained at its current dock in Ipswitch, England.
"The vessel, Noah's Ark will remain detained until all the deficiencies have been put right and a Maritime and Coastguard Agency surveyor is invited back by the owners to check that they have been corrected," said a spokesman.
The full-size version of the ark, which is almost twice the length of this one and is known as Johan's Ark, was opened as a museum in Dordrecht, Netherlands, however its current status is also unclear.
Whether either vessel will ever be capable of crossing the ocean again remains to be seen.
Source: BBC News | Comments (8)
Similar stories based on this topic:
Tags: Noah