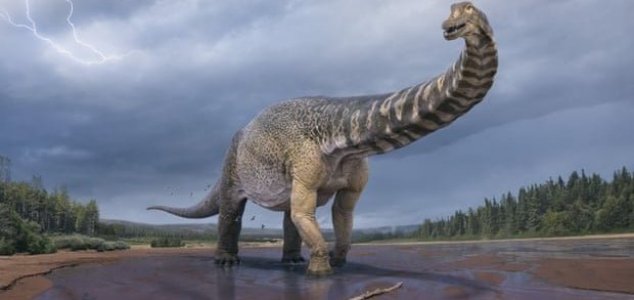 Image Credit: Vlad Konstantinov / Queensland and Eromanga Natural History museums
An absolutely gargantuan dinosaur - the largest ever found in Australia - has been unearthed in Queensland.
Measuring up to 30 meters in length, this enormous prehistoric giant - nicknamed Cooper - was originally discovered at Cooper Creek in the Eromanga Basin all the way back in 2007.
"Such big, fragile bones literally took years to prepare and clean," said field palaeontologist Robyn Mackenzie.
Thought to have lived between 92 and 96 million years ago, it is not only the largest known dinosaur ever found in Australia but also one of the largest dinosaurs to have ever walked the Earth.
Officially named
Australotitan cooperensis
, it was a species of Titanosaur - a group of enormous herbivorous quadrupeds characterized by their extremely long necks and tails.
There is in fact evidence to suggest that this particular individual may have been trampled by other sauropods after it had died, based on the crush marks evident on its bones.
"We came across a trample zone, which is basically trampled mud that has solidified and hardened into a rock shelf," said palaeontologist Dr Scott Hocknull of Queensland Museum.
"We know that they were actually wandering in the environment. It wasn't just the bones getting washed in and preserved in mud."
Another, potentially larger specimen - nicknamed George - is also currently being studied after being discovered in Eromanga, however it may be some years before it can be formally described.
Source: The Guardian | Comments (6)
Similar stories based on this topic:
Tags: Dinosaur, Australia