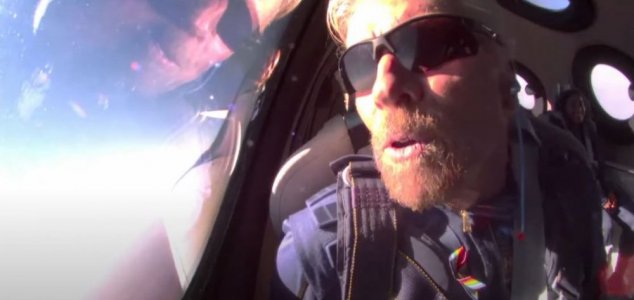 Branson was ecstatic during the trip.

Image Credit: Virgin Galactic
The entrepreneur and founder of Virgin Galactic soared into the heavens today aboard the VSS Unity.
It's been a bumpy few years for Virgin Galactic, especially with the loss of its original SpaceShipTwo in October 2014 - an accident that not only claimed the life of a pilot, but also cast doubt on whether the company's lofty goal of launching tourists into space would ever happen at all.
Now at last, however, founder Richard Branson's vision of providing an affordable way for tourists to reach the edge of space has finally been realized with Branson himself along for the ride.
Alongside two pilots and three other passengers, the 70-year-old took off at 10.40am ET this morning from Virgin Galactic's Spaceport America in New Mexico's Jornada del Muerto desert basin.
After reaching approximately 46,000ft, the VSS Unity spacecraft was drop-launched from the SpaceShipTwo spaceplane and ignited its booster rocket to take it up the rest of the way.
The crew experienced a brief period of weightlessness against the backdrop of the curvature of the Earth before the spacecraft began its descent back to terra firma.
The mission was ultimately successful and the crew landed safely a short time later.
For Branson, the flight marked the culmination of decades of work as well as the fulfilment of a lifetime dream of flying to space.
It also marks Virgin Galactic's success at beating Blue Origin's Jeff Bezos - whose New Shepard spacecraft will be launching in just over a weeks' time - to the punch.
Comments (25)
Similar stories based on this topic:
Tags: Virgin Galactic