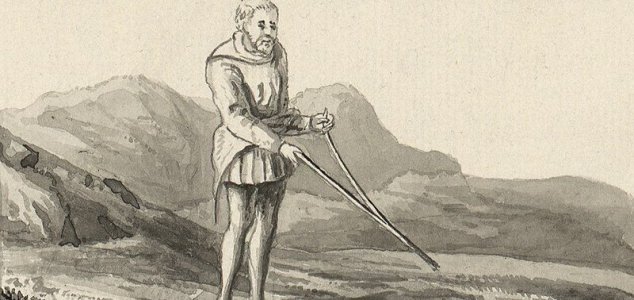 Can you really find water by dowsing ?

Image Credit: Thomas Pennant
Can dowsers really find water sources using nothing but a wooden stick or is dowsing a centuries-long con ?
The demand for dowsing, the age-old practice of using either a forked stick or two metal rods to locate hidden resources under the ground, has been on the rise in recent years, mostly due to the extreme droughts to have hit parts of the United States and the desperation of the people affected by them.
Dowsing is thought to have originated in 15th-Century Germany where it was first used to find precious metals however it soon became synonymous with the hunt for hidden sources of water.
While scientists these days tend to shun the practice as nothing more than pseudoscience, dowsing is still proving popular - especially in the worst hit regions of California where some farmers have come to rely on the efforts of dowsers to locate water for their crops.
The jury is still out, however, on whether or not dowsing actually works in the way that is implied.
"There's been at least some research testing the dowsers' skill," said Todd Jarvis of Oregon State University. "And for every study that says there's nothing to it, there's a study that says there's something to it."
In an article on its website, the United States Geological Survey (USGS) writes:
"The natural explanation of 'successful' water dowsing is that in many areas water would be hard to miss. The dowser commonly implies that the spot indicated by the rod is the only one where water could be found, but this is not necessarily true. In a region of adequate rainfall and favorable geology, it is difficult not to drill and find water!"
While there is little doubt that some dowsers do achieve success when searching for water, it's going to take some pretty strong evidence to convince the scientific community that this is down to anything other than random chance.
Source: How Stuff Works | Comments (11)
Tags: Dowsing