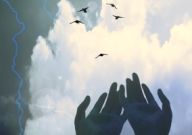 Sufferage and mediumship
Posted on Wednesday, 27 August, 2008 |

3 comments
Columnist:

Kathleen Meadows
The feminist position has been a central and pivotal point of reference for me for thirty seven years. It is my lens, interpretive tool and scalpel. Everything concerning politics, ecology, relationship, and finally spirituality is systemically placed under my feminist microscope and examined for irregularities, discolouration, and force. When I began my journey into understanding the practice of spiritualism and mediumship, I hit the jackpot on misogyny (social cancer), prejudice (discolouration: her/historical research bias) and deliberate, nefarious intention (force). All Messianic Teachers have pointed out that until females and males and regarded and treated as equals in this world we are firmly on the path to self destruction. I doubt I need to reiterate how this prophetic and wise counsel is presently manifesting. You could say this isn't the only reason but I would beg to differ on that point.
When the spiritualist movement bludgeoned into the centre of social, political and religious life in the mid eighteen hundreds, panic ensued among the power brokers such as the Vatican, aristocracy, and illuminati. Direct downloading of information from the spirit world to the earth plane was only evident in those identified by the power brokers. And a very few it was. Only men too if you noticed. Even as a child, I wondered why God only spoke directly to men. All nine manifestations are identified as men (which is why we have appropriately named them MANifestations rather than HUMANifestations). The truth is that all of these so called nine manifestations were mediumistic. You might wonder that there have been only nine and all men. Or at least I hope you would wonder that. To imagine an Infinite Spirit that favours speaking only to males is too depressing for words. Is it any wonder that clinical depression affects more women than men? Of course the whole field of mental illness is beleagured with misogyny which is why I gave up that study years ago.
When spiritualism stormed onto the main scene what really upset the status quo was the fact that spirit return was not selective with regard to sex.
Just like the power brokers have no interest in developing technologies which would support a free and difficult to control energy source, they have no interest in supporting a premise that spirit is a daily occurrence to a significant percentage of the population and it appears to be growing exponentially. A minimum of five per cent of the population experiences direct communication with the spirit world. That percentage would undoubtedly be much higher if children around the world were nurtured and instructed on a mediumship development best practice.
Her/historians such as Alex Owen who wrote The Darkened Room (1989) connects some of the dots between the sufferage and spiritualist movements of the affectionately referred Victorian Age, but she has omitted or forgotten? several of the most talented and gifted female mediums of that age. Of course she admits to, "being influenced by what some consider to be the twin theoretical devils: poststructuralism and psychoanalysis." But she also ends her introduction with this apologetic statement, "That The Darkened Room represents an affirmation of the feminist historical agenda will, I hope, be clear to all." I have struggled with the contradiction between psychoanalysis and feminist "historical" agenda for years. They are contradictory in my mind!
I think most of you would agree that Freud was not a feminist. Although at the end of his life he regretted not having spent his life studying esotericism, he never remarked that he regretted not having spent time studying the agenda of the sufferage movement.
If you are serious in your study of the phenomenon of modern spiritualism/mediumship, you must read first some key authors of that age. Modern spiritualism is so referred because the act of mediumship represents a human activity present in the world for thousands of years. To begin you should make yourself familiar with the works of Mrs. Cora Richmond. You can read some of her discourses at InterFarFacing and order reprints of her biography from this same site. Cora's story is truly the flagship and hallmark of the sufferage and mediumship synchronized explosion of the nineteenth century.
Spirit return is a reality. Once you begin your discriminating and discerning research work on this subject you will be hard pressed to deny its claims in entirety.
What does it mean really in the ongoing human struggle for survival? Having irrefutable, scientific proof that life is eternal may profoundly impact on how you live your life. Chances are that you would even consider that it's worth making choices that prioritize your soul cleansed of ill intentions, selfishness, and prejudice.
Kathleen Meadows, M.A.
http://www.tarotbykathleen.com
Article Copyright© Kathleen Meadows - reproduced with permission.
---
If you are interested in the esoteric sciences and psychic ability development you will find the articles on my web site an interesting read. Visit my web site Exploring the Psychic Experience.