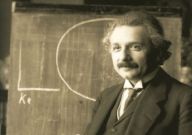 Aetheric thoughts
Posted on Sunday, 12 April, 2009 |

4 comments
Columnist:

William B Stoecker
In the latter part of the nineteenth century, physicists theorized that light and other electromagnetic radiation might be propagated through space via some tenuous medium they called the luminiferous (light bearing) aether. It could be thought of, perhaps, as another kind of matter. Then, in 1887, two American physicists, Michelson and Morley, constructed an apparatus using two mirrors and a semi-silvered mirror to split a light beam into two beams travelling at right angles to one another and then recombined them and measured the size of the interference fringes caused by constructive and destructive interference. It was reasoned that, as the Earth orbited the Sun and moved through the aether, the beams, due to a kind of aether wind, would travel at different velocities, creating patterns within a certain range. They repeated the experiment over and over and in many directions, and never found evidence of an aether wind. Other physicists, more recently, have had the same result. It was reasoned that if there was an aether, there would have to be an aether wind, so, clearly, there is no aether.
Science had to go back to the drawing boards, so to speak, and one of the results of this was Einstein's Special Theory of Relativity, published in 1905 and dealing, as the title implies, with the concept that motion is never absolute, but only relative. Yet it seems to me, even though relativity theory seems to have passed every test, that there can, indeed, be absolute motion. Imagine that you are in a room with a large balloon filled with air. The air molecules inside the balloon are vibrating and circulating, but you can still move relative to the balloon as a whole. If the balloon were removed and you had only the air mass, for all its internal movements, you could move relative to the mass as a whole. Planets like our Earth orbit the Sun, but you can move relative to our Solar System taken as an entire unit. And you can move relative to our entire galaxy, despite all of its internal movements. By extension, then, it is possible to consider our entire universe, whether it is expanding or not, as a single immense "object"...and move relative to it. Since the universe is, by definition, everything that exists, that would make the motion absolute.
In 1916 Einstein published his General Theory of Relativity, dealing primarily with gravity. He theorized that there was a fourth dimension (time) at right angles to our familiar three spatial dimensions, and that mass caused space to curve back in time. This cannot be visualized, but it is possible to construct a spacetime diagram collapsing our three dimensions into one, and the timeline is at right angles to it. As two masses progress forward in time, their timelines, due to the curvature of space, are bent toward one another. So the theory seems to work perfectly...as an abstract concept. The problem is that for space to bend, space cannot be mere nothingness. There has to be some structure, some substance, something there to do the bending...some kind of aether. So Einstein developed his theory in part due to the assumed absence of an aether, but the theory needs an aether to work. Something is wrong with this picture.
And, although relativity seems to pass every test, and quantum mechanics, the other pillar of modern physics, has proved highly predictive, leading to the development of lasers and solid state electronics, for example, there are other problems. Chief among them is the fact that the theories of relativistic gravity and quantum mechanical gravity have never been reconciled. Einstein spent his declining years trying in vain to create a grand unified theory that would accomplish this. More recently, string theory was hailed as the solution, but that was soon modified into membrane theory, and there are still problems. Modern physics is still at a loss to explain what dark energy and dark matter are (if they are), and (this is a dirty little secret) physicists and astronomers are unable to explain why most large celestial bodies (like our Earth) have magnetic fields. And, to top it all off, quantum mechanics relies on a concept called particle exchange to explain the four forces (gravity, electromagnetism, the strong nuclear force, and the weak nuclear force) and postulates that our universe is filled with a sea of "virtual" particles that pop in and out of existence...in other words,an aether.
So both relativity and quantum mechanics require something like an aether, although no one seems honest enough to call it that. In addition, for what it's worth, traditional cultures the world over have believed in some kind of energy, some kind of dynamic force, filling all space and interacting with life and consciousness...ki, chi, mana, prana, orgone, vril, etc. And there is considerable evidence that modern researchers have developed some form of gravity control, which cannot be explained by conventional physics. So perhaps we should reconsider the aether.
What follows is not a theory, not even an hypothesis, but mere speculation. We laymen simply are not qualified to develop anything like a theory, and some of us are honest enough to admit it. But perhaps a truly qualified and open minded physicist can examine this speculation, determine if it has any value, and develop a real theory from it.
Imagine that all space is filled with waves, not transverse waves, like light, but longitudinal waves, rather like sound. They would have to have an incredibly short wavelength and would travel at least at light speed, and possibly far above light speed. These waves would be inexhaustible and would move in and from all directions, creating a tightly woven three dimensional matrix...an aether. What do the waves travel in (what is doing the waving?) The matrix. Of what is the matrix composed? The waves. In a seemingly paradoxical fashion, the waves travel in a matrix they create. Gravity, then, could be a push, rather than a pull, with some of the wave energy being somehow absorbed by matter and converted, perhaps, into heat and electromagnetism (modern physics is also at a loss to explain all of the heat within celestial bodies like Jupiter and the Earth, and the absence of sufficient neutrino emission may indicate that not all of the Sun's energy is produced by fusion). At the risk of sounding overly mystical, let me suggest that the accounts of God creating the universe by first saying "let there be light" might conceivably refer to these waves, which could be thought of as a kind of primal light, and, with their longitudinal propagation, as a kind of sound...the Word of God. What we call light would then be a transverse vibration travelling on this matrix.
How the energy would be absorbed by matter, how the waves can avoid interference, and the composition of subatomic particles are questions a layman cannot answer. It is easy to speculate about vortices in the matrix, but problems soon develop with that idea.
If this speculation has any value, and if any physicist develops it, this could well be the key to "free" energy and gravity control. It may also give us clues about the nature of human consciousness.
William B Stoecker
Article Copyright© William B Stoecker - reproduced with permission.