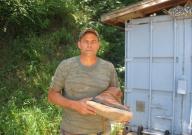 The Mountain Chumash Indian Spirits
Posted on Friday, 5 June, 2009 |

0 comments
Columnist:

Paul Dale Roberts
Date: May 9, 2009, Saturday. HPI Paranormal Investigator Telly Blackwood aka Face aka Leatherface tells me about a very haunted mountain near Los Angeles called Sulphur Mountain. Face and I, decide this Saturday to drive down there and see what we can find. Before I go on with the story, you can see some of the pictures from Sulphur Mountain and please check out Roger Tinsley and his wooden Bigfoot shoe and professional actress Krissy Kage, I will talk about both of them in this story.
Now check out the link and see the pictures:
http://s459.photobucket.com/albums/qq319/H...ulphurMountain/
I have to give Face a standing ovation for driving all the way to Sulphur Mountain from Sacramento and back. That is a long treacherous ride. To get this investigation started Face threw on Hell's Bells by AC/DC. We interview Roger Tinsley who owns a lot of property at Sulphur's Mountain. He has lived here for 16 years and remembers partying on this mountain during his high school days. He is now 50 years old. He tells me that the Mountain Chumash Indians used to live on this land and their presence is very strong on this mountain. Their spirits can be felt heavily from McGoo Rock to Point Conception. This was a spiritual place for the Indians and may have been considered as sacred ground. Many people have claimed to have seen full body apparitions throughout the woods on Sulphur Mountain. People can hear them, people have seen them and many people have found pictures of ectoplasm on their photographs. When looking at the photographs closer, the ectoplasm at times looks like Indian faces. Roger Tinsley is also an actor and on this day Arron Cooka aka Master Arron (Director) for many horror type of films was on his property filming a hillbilly horror movie. The storyline is 3 women picnicing in the woods are spied upon by hillbilly hunters. They are abducted and face torture, maiming and murder. Face was asked to be the videographer of this movie. I observed and watched the production take place. They were actually supposed to be filming a zombie movie and that movie is being placed on hold since the zombie extras didn't show up this day.
Roger Tinsley's character is Carney Bob, a hillbilly hunter. Roger made a confession to me, he showed me a pair of boots that have a wooden Bigfoot print attached to the bottom of the boot. Roger claims he has made many Bigfoot prints throughout the mountain. People have seen the prints and thought Bigfoot was tramping around in the woods. Roger said he started this to scare his neighbor who had 250 beehives. The neighbor got so scared thinking that Bigfoot was around, he eventually moved out with his bees. Just for the kick of it, I asked Roger if he believed in zombies. His answer was that he felt people face many levels of consciousness and on certain levels a person can reach that zombie state of mind. He believed his first wife was a zombie. He felt she was controlled by another force, which would cause her to do evil things. Her appearance even changed when she was at the level of consciousness.
My next interview was with professional actress Krissy Kage. She has been an actress for 8 years. She is also recognized as a scream queen in b-rated horror films and has done adult films. She has worked for companies like fetishforfreaks, Dungeon Corp, B&D Pleasures, Bizarre and Kink. She tells me that she is anxious to play a zombie in their upcoming zombie film. She has never had a paranormal experience, but does believe in zombies and other paranormal subjects. She absolutely loves horror films. She tells me that the perfect horror film would be lots of blood and hot chicks.
The next actor I interviewed was Allen Dinnewith. This is his first acting gig. He is also playing a hillbilly hunter killer. One of his paranormal experiences is being possessed by his deceased grandfather and in front of his family, he mimicing the jesters of his grandfather. Especially the jester of tapping his dinner fork 3 times before eating. He did not realize he was mimicing his grandfather, until his family pointed it out. He believes he has the unique ability of seeing ghosts, when other people are unable to see them. For a lark, I asked him if he believes in zombies. His answer is 'yes'. He feels that one day our world will face a nuclear disaster and when that happens we will half of the dead walking around like zombies.
After my interviews I proceeded to conduct my investigations. Face continued to video tape the hillbilly horror movie. I was taken to one movie site by sitting in the back of a Ram 1500 truck. I got slapped by tree branches on my way up. While I conducted my investigation, I could see the movie scene of 3 women having a picnic in the woods and being spied upon by 3 hillbilly hunters. Eventually the 3 women are chased down by a 4x4 HE Rolet gray van and two are thrown into the vehicle, while one escapes and gun shots are heard.
A lot of Hollywood types will stop by the movie production to watch the movie being made. While I was doing my investigation I ran into a Latino rap group called Tha 69 Kings (Taadow, Slicwitit and King D) www.myspace.com/socalis69kings and their photographer Gabriel Peralto www.myspace.com/soulskat. One of the rappers makes claim that he did indeed see an Indian apparition in the woods one night and it scared the beejezuz out of him.
This was a all night investigation and I set up camp. One of the visitors assisted me in putting up a very large tent. I made observations around the mountain and discovered many peacocks that roam the landscape. In one section of the mountain was a mother cat and her baby kittens that live underneath some rock steps.
When night fell, a campfire was made, some of the guests listened to techno music and played with glow lights. A group of Goths came by to meet some of the actors and actresses from the movie. Night scenes were filmed. When everything was said and done, tacos, chicken, sodas, juices, cookies, pastries, chips were waiting for us. There was so much food presented to guests, actors, actresses, film crew, etc.
There was a full moon and when everyone was settled in for the night, Face and I began our investigation. We explored many parts of the woods around this mountain. Due to music being played by a nearby campsite, we were unable to obtain any EVPs. No photographic evidence was collected. Some photographs showed what could simply be dust orbs and the photos were deleted. Two guests this night were startled and thought they saw a shadow person near their tent. The only thing is, that there are a lot of animals in the woods and they may have seen the shadow of a hungry animal. This was an interesting experience, but this place on Sulphur Mountain will need to be investigated under more controlled conditions. A further investigation is warranted.
Mysteries of Angels & Demons featuring Paul Dale Roberts, Demonologist will be available nationwide in stores on June 9th, but you can get your copy now at: ivesstreetentertainment.com
Purchase the DVD directly at the link below:
http://www.ivesstreetentertainment.com/pro...e8de42087f7f5d7
To view the trailer of Mysteries of Angels & Demons, stop at this link:
http://ivesstreetentertainment.com/trailers/a&d.mov
Paul Dale Roberts, HPI General Manager, Paranormal Investigator & Ghostwriter
Shannon McCabe's HPI Haunted and Paranormal Investigations International
www.HPIparanormal.net
Mysteries of Angels & Demons featuring Demonologist Paul Dale Roberts can be purchased at:
www.ivesstreetentertainment.com - Go into 'Stores', see Trailer at 'Movies'
Paul on Wikipedia, click link below:
http://en.wikipedia.org/wiki/Paul_Dale_Roberts
www.jazmaonline.com
Staff Writer - Alien Seeker News -
http://www.alienseekernews.com/
WPRT Paranormal Radio - Content Editor
Email: Pauld5606@comcast.net
Paranormal Cellular Hotline: 916 203 7503 (for comments on this story).
If you have a possible investigation call: 1-888-709-4HPI
Copyright © 2009 Paul Dale Roberts, HPI Ghostwriter Copyright © 2009 all rights reserved.
Article Copyright© Paul Dale Roberts - reproduced with permission.