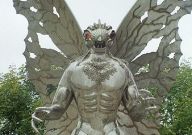 Mothman: don't play games with me!
Posted on Sunday, 27 December, 2009 |

0 comments
Columnist:

Paul Dale Roberts
December 15, 2009, Tuesday, Time: 20:06 Hours. My paranormal cellular hotline is ringing off the hook; the ringtone 'X-Files' is heard. I answer the phone and I hear a guy screaming in the background. His two buddies have me on the speaker phone and they are explaining to me that their friend witnessed a Mothman. I can tell by the yelling, screaming, loud talking that everyone must be intoxicated. Just a hunch.
The callers call 8 times this Tuesday evening and they are screaming in my ear about their Mothman sighting. One of the guys claim that they saw Mothman first in South Florida and now it has followed them to Sacramento. They claim the Mothman swooped down from the Sacramento Tower Bridge and almost grabbed their screaming friend. They claim that their friend is hysterical and he is unable to speak to me. Their message is incoherent and some of their talk becomes abrasive and brash. I get fed up with the calls and hang up on them. They continue to call me and tell me to get out to the Tower Bridge. I finally shut down my cell phone completely; I will deal with them tomorrow, when all three will be sober (hopefully).
It is now Wednesday and I call them back. I leave messages and no return phone calls. Finally one of the men calls me back. I asked him if he was the one that called me last night about a Mothman story, he says yes. I ask him what his name is and he doesn't want to disclose his name. I explain to him, before I take down his Mothman story, I want a source for this story. If someone wants to know the identity of the Mothman victims, I want that someone to be able to find them to clarify their story. Basically, I want their story validated with some kind of authenticity. I don't know how many times I have told stories that have been told to me, by people who want to remain anonymous. But, in this case where the callers sound intoxicated and they call my number 8 times, I am going to place a source for this story in the article.
The man I was talking to, explained he did not want to be identified and I explained to him, that his phone number was on my cell phone and that I would utilize his phone number as the source of the information. He then back tracked with his story and begged me to not publish his phone number into my article. He apologized for calling me so many times last night and told me that I would never be bothered again by him or his friends. Thinking to myself: 'Ahhhh...so this was a prank?'
I think what ticked me off about this call is that I could tell that the callers were intoxicated. I do not mind getting a phone call from a sober person that wants to remain anonymous, but when I get a call from 3 loud talking drunkards, it sort of takes me over-the-edge. So, let this be a warning to any intoxicated so-called paranormal witness, if you call me, you best be sober or you could find your phone number published in my article as being the source of the story.
Paul Dale Roberts
Article Copyright© Paul Dale Roberts - reproduced with permission.