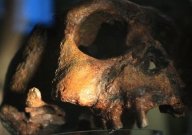 Homo sapiens endowed with three minds, not one
Posted on Saturday, 12 June, 2010 |

14 comments
Columnist:

Doc Edwards
A while back I gave a lecture in a large meeting room near the main campus of The University of Tennessee on "The Three Minds of Man" to an audience of about seventy weary students, who had just finished an intense week long ordeal of testing since it was the end of the semester. As students sometimes do --- if you remember --- to de-stress after all these tests, most of them were also coming off a two or three day celebratory drunk.
As I addressed the audience of about seventy students, I would pause from time to time for emphasis, to get my audience in resonance, as I call it, with what I've come to call, a kind of subconscious rhythm. I looked into a great many reddened and slightly puffy young eyes as I said,
"Whether you have been taught the following information or not; both your inner as well as outer experiences will teach you, if you are observant, that what I am about to say is correct: "Human- beings- have- three- different,- distinct,- and- separate- minds --- each designed by Mother Nature to perceive, cognate, and respond to different human problems in different and unique ways --- and as you will come also to understand, each responds to three entirely different levels of reality, or what many prefer to call overlapping, different dimensions of one greater reality. Of course, even though this is the obvious and proven circumstance and manifestation, as decreed by Mother Nature herself, it is not necessarily the way and manner that the great majority of human beings choose to function and operate in finding solutions to their problems; most believe they have only one choice, one method, one mind to work with in meeting, solving,, or resolving all the flack and fray that life can sometimes throw our way in the form of the ordinary problems of our daily life and existence in this physical world.

While most people, as I suggest above, believe they have only the one Conscious Mind with which to tackle the difficulties and dilemmas of life, more and more people are becoming aware, through such modalities as hypnosis and visualization exercises, that there is a secondary route --- and sometimes a far more effective approach --- to the solution of many of the problems we face, which is, of course, through the mysterious doorway of the Subconscious Mind. Though, few there are, indeed, who are aware of an even more powerful way, a far more connected, even more mysterious, Third Mind, that is called by those who know its powers and wonders, the Super Conscious Mind.

The Super Conscious Mind, when accessed and tapped through certain specific methods --- some ancient, some modern --- swings open and wide a great, long closed door to a higher realm of human perception and awareness that is as different from our ordinary experience and expectations of reality as the Champs-Elysees in Pars is from a jungle path in Peru. As far as the experience of the average human being is concerned, the doorway to the Super Conscious Mind has been welded shut by almost countless millennia of non-use,... and surprisingly,.... inaccessibility. For the most part, anyway, modern man has forgotten "how" to access and use this marvelous, almost supernatural in its effects, cerebral tool that many would rightly call, "Natures Greatest Gift To Man: The Super-Conscious or Higher Mind."
Here, I paused in my lecture for only a second, lifting my eyes up, barely over the rim of my glasses, to view and assess the reaction of the audience to what I was saying--- when suddenly from out in the middle, just a few rows back from the lectern where I stood, and like some surreal, giant, red-eyed Jack-In-the-Box ---- one particularly disheveled student suddenly stood up, bobbing back and forth like a coiled human spring, and bellowed out as if it were his last plea for clemency before being shot by a firing squad:
"...THREE MINDS? --- My God in heaven! --- This week I've been barely able to deal with "one"--- And now you're tellin' me I've got two more to deal with next semester...?"
As he shook his head, feigning disgust, the other students in the audience howled, applauded, whistled, all seconding his sentiments with laughter at their friend's spontaneous, impertinence; his buddies pulled him back down into his seat as the captive radical and instant celebrity that he had just become.
After the lecture was over, and all the slapstick along with it, I was driving home alone in the silence of my car when my own higher consciousness, that I refer to simply as my Gamma-Mind ( see my website
www.tomorrowsprophecy.com
for a further explanation) nudged me and I realized suddenly exactly what it was that this young man had actually done: By expressing his feelings of mental exhaustion in his somewhat melodramatic way, he was simply restating, in perhaps a more animated way than most, the exact point that I had been trying to make: Most people, when they are caught in the fray and fight of meeting and solving --- or attempting to solve --- the daily dump truck load of problems that most human beings face every day of their life, fail to take advantage of Mother Nature's kind provision : that we have three minds, not just one to meet and greet the onslaught of daily duties and difficulties that everyone's life is filled with. By choosing and using only their Conscious Mind as their tool of choice to work with--- particularly at those peak periods of stress when they feel like their mind has been strapped to the right engine of a 747 for a couple of weeks --- people short change themselves and limit the options available to them with which to solve their problems, instead of availing themselves of the higher, and literally infinite options waiting to be revealed when they saddle-up the talents of their other two powerful minds, the Subconscious and the Super-Conscious.
This is not to say that the Conscious Mind has no talents, for, indeed, it has many, most of which deal with strictly the physical survival and needs of the body, and in addition to the way and manner we interface directly with our physical environment. We have to come to a realization that each of these minds have special talents for special and different situations, and by limiting yourself to only one, you have simply cut yourself off from any untold number of unique, diverse, and phenomenal solutions that might otherwise be available. Of course and obviously, as you access and move up the ladder, so to speak, going from the Conscious Mind and its very practical, cause and effect based solutions, on up to the next level, the Subconscious Mind, and its more intuitive, inspired, even dream suggested, repertoire of solutions to problems, then up to the even higher, Super-Conscious Mind, you are exponentially increasing the guarantees that you will find the solution to any and every problem that can possibly be presented to the human mind. I cannot but help to think that this is exactly what was suggested in the book of Luke in the New Testament when it says, "For there is nothing covered that shall not be revealed; neither hid, that shall not be known." (Luke12:2)
Article Copyright© Doc Edwards - reproduced with permission.