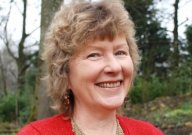 Animals as our guiding spirits
Posted on Sunday, 17 October, 2010 |

4 comments
Columnist:

Geoff Ward
Throughout our life, we have a personal, intimate relationship with a specific animal, bird, insect, reptile, even a plant, tree, stone or mythical creature. This creature is our intercessor in the spirit world, our ally, protector, helper, guide, companion, and also reflects or encapsulates the essential essence of our 'beingness'.
This is the view of British author Celia Gunn (pictured) who first learned about the tradition, which is the subject of her new book Totem Animals, directly from a visionary leader of the Sinixt people in British Columbia - and how her totem animal would help her on her path through life when she learned how to 'truly pay attention'.
During the late 1980s and early 1990s, Celia worked with the Sinixt on cultural preservation, as recounted in her 2006 book, A Twist in Coyote's Tale. Earlier this year, a Canadian docu-drama, Bringing Home the Bones, was released, adapted from this book which tells the remarkable story of Celia's key role in helping the Sinixt restore their ancestral burial grounds.
She discovered her totem animal during her time with the Sinixt at a point when she was struggling with a difficult patch in her life. At first, she had no idea what the Sinixt elder was talking about when he told her about totem animals.
'But I never asked questions of the indians, instinctively feeling I would understand when the time was right,' she said. 'Then I came to be living right next to their ancient ancestral village, and found a special place above the river where I loved to sit and meditate. That winter, I came under a lot of pressure from my job, and one of my children was very ill. I was exhausted, and went out for a walk in the snow to that special spot, and broke down and pounded on the earth and asked for help - on the ancestors' graves! It was about nine months later that I would learn from the archaeological record that it was a burial ground.'
On the way home, Celia was granted the vision of a 'sky wolf', shaped by clouds. She said: 'I began to "truly pay attention", and learn about my wolf-qualities - pathfinder, teacher, one who goes out into the world and brings back new information to share, intelligence, persistence, importance of extended family, yet loving to howl alone at the moon - and how to invoke assistance and guidance by calling on Wolf, whenever I felt the need. I also began to "truly see" that any creature that crosses our path in a special way carries message and meaning.'
Although the word 'totem' is associated with North American indians, the concept is found in cultures worldwide. It is an object that serves as a revered ancestral emblem, as Celia explains in her book, and totem animals are also used for personal guardianship. In a delightfully illustrated A-Z, she explores the symbolism of more than 60 animals from ant (self-sacrifice) and badger (willpower) to weasel (secrecy) and wren (healing power of nature).
She said: 'We all have access to spiritual guidance, if we but ask. One way to do this is through the spirit of animals, most especially through the spirit of your totem animal.' If we are open to paying heed to our totem animals, she tells us, we can develop a beneficial relationship with them: when a totem animal appears in a special way, it offers insight into what's happening in one's life.
Celia has always loved animals and when she was a child she wanted to become a vet. She traces a 'golden thread' from her childhood days, saying a small child is still close to spirit, and knows things that become buried by social expectation and conditioning. And this thread led her to 'quite a profound realisation'.
She had just drafted the first part of Totem Animals when she was diagnosed with cancer. 'And this is one of the miracles,' she said. 'It was the experience of cancer that blew the whole tradition wide open for me. It was while I was undergoing chemotherapy that I researched and wrote about the creatures themselves, so poisoned that I was in a liminal state, halfway into the otherworld.
'Yet I couldn't imagine anything better to do at such a time. It was like being surrounded by all those creatures, each of which had their own helpful message. And significantly, before or during each treatment - surgery, chemotherapy, radiotherapy, Herceptin - other creatures not only brought significant messages but some clearly attached themselves to me, and stayed. In the front of the book is a dedication to each.
'So it's over the last three years that the world of totem animals has become brilliantly alive and present to me. And now I've found a peaceful warrior way to do exactly what that little girl wished to do so long ago - to raise consciousness about the spirit of, and our relationship with, creatures other than human.'
Totem Animals is also very much about reconnecting with nature. Having set ourselves apart from the natural world, says Celia, we have alienated ourselves from the planet, but working with one's totem animal helps to restore the balance and harmonious living. 'One of the most important things in my life is to help people to learn to respect creatures other than human with whom we share Mother Earth,' she said.
Celia describes various ways in which you can identify your own totem animal, including meditation, visualisation, insight or inspiration. One method she suggests is to sit quietly and relax your mind, imagine a favourite place in the natural world, and mentally ask to meet your animal. After a while, you'll get a sense or a vision of your animal in your mind's eye. But she said: 'I don't think what we label totem or power animal does the tradition justice, since it's such a profound tradition, deeper and wider than perhaps our imagination can go as yet.'
A Native American spiritual elder once told her: 'The world is a mirror.' She understood that learning to read the symbols reflected by the world can empower a person to see beyond everyday living and the five senses into the hidden depths of nature and the realm of spirit guides. 'This is where you will find healing, knowledge and perhaps magic, the means to bring your life into harmony on all levels - physical, emotional, mental and spiritual - and help you manifest your purpose in life,' she says.
Totem Animals is in Sterling Publishing's elegant 'Simply' series which aims to demystify a range of divinatory systems, including feng-shui, crystals, meditation, numerology, dreams and astrology.
Simply Totem Animals
Celia M Gunn
Sterling/Zambezi UK £8.99
ISBN 978-1-903065-69-3
Celia Gunn's website:
www.earthskywalk.com
Article Copyright© Geoff Ward - reproduced with permission.