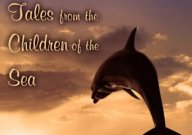 Tales from the Children of the Sea
Posted on Friday, 10 December, 2010 |

2 comments
Columnist:

Jann Burner
In a special offer available to our readers this month Unexplained Mysteries columnist Jann Burner is offering his new eBook "Tales from the Children of the Sea, Volume 1, The Last Wooden House" for free download at Smashwords.com until December 24th, if you've been following Jann's articles here on the site or are a fan of contemporary fiction then we fully recommend checking it out.
Tales from the Children of the Sea, Volume 1, The Last Wooden House
When the American and world economy finally collapsed a group of people decided to take to the sea instead of the Welfare line. These people chose to live in ocean kayaks and they cruised the area from Alaska through to Panama. In Tales of The Children of The Sea, Vol. I, The Last Wooden House, a shape shifting teller of tales comes to their fire one night and tells them a story. The story he tells is about a time in the distant future when there are no longer any humans on the planet. In fact the idea of Man is a legend or worse, a rumor. But in this time in the distant future a new group of intelligent entities has come into power. This group has been here all along, but through some surge brought about by the Rad-Wars, they assumed the dominant position on the planet. We call these entities...Dolphins. And in their wisdom they chose to keep certain artifacts as we might save a revered object in a museum. One of the artifacts thus preserved was a Victorian house in the ancient city site once known as San Francisco. This house is, in fact, the last wooden house on the planet. On this particular evening a group of these advanced entities have chosen to "become human" for a two hour tour of this last wooden house. In the course of the tour one of the "tourists", dressed as an elderly man with a name tag that identifies him simply as "Harry", makes a miraculous discovery. In the course of the tour he discovers a bowl of "human dreams", and this is where the real story begins. Harry drinks the bowl of dream liquid and immediately forgets who or what he really is. Can he discover the face he wore before he first looked into the mirror, in the Last Wooden House? Will he ever find the white dolphin in the sea? And what is going to happen in Vol. II of Tales from The Children of The Sea? It will be called, "The Memory Palace".
To download the eBook visit
Smashwords.com
and enter
JN47Y
at the check-out before December 24th to get it for free.
Article Copyright© Jann Burner - reproduced with permission.