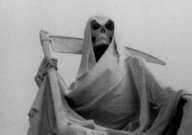 HPI interview with Henry Sanchez
Posted on Wednesday, 22 June, 2011 |

0 comments
Columnist:

Judy Raderchak
Henry Sanchez explained that his experiences started nine years ago when his son was just an infant. He had been going through a divorce but felt "Normal". He explained to me that previously in high school he saw a full bodied shadow person. Henry also stated that he had been "poked by a pitch fork, by Death". He has always had a strong believe in the Catholic religion and has been dedicated to God his entire life. He believes that he became a victim of black magic or voodoo but does not know who or why.
During the investigation we took several pictures and EMF readings and nothing seemed out of the ordinary. We took EVP and Belinda Used a Voice Box. As we began to ask questions we did get a few responses to yes and no questions. At one point, the voice box stopped on a channel that had played a Spanish love song. We picked up some interesting static electricity when the Voice Box was placed close to Henry. We believe that the entities have been trying to communicate with Henry and his resistance has cause him grief. He said he prays every night to have God help get rid of it.
While discussing our findings with him he denied the fact that he was "gifted" and he only wanted the experiences to go away. Belinda explained that it was the same experience for her when she was young. She also went on to say that most people who have "gifts" go through a lot of torment, wishing it would just stop. Henry did not want to except it.
Later in the conversation Belinda Bentley says to us" Have you ever heard that joke about the man in the sinking boat who keeps waiting for God."
"There was a man in sinking boat out in the ocean. He prayed and trusted that God would save him.
Soon a boat came by and offered to pick him up and take him to shore. The man refused saying, "I'm waiting on God to save me" and the boat left. He sank a little bit more.
Another boat came and offered to take the man to shore and again the man declined help and said, "I'm waiting on God to save me" and the boat left. His boat sank, leaving him swimming for his life in the deepest of water.
Finally a third boat came and offered him help, again the man said no adding, "I'm waiting on God to save me". The third boat left, and the man drowned.
When he came before God, he was upset saying, "I waited for you. Why didn't you save me?"
God said: I sent you 3 boats!!!
At that moment Henry looks at Belinda and said "I read that same story to my son!"
We were all shocked. We told Henry that he is the man in the boat. He kept praying to God and yet he is still tormented by his experiences and refuses to except the fact that there is NO black magic and NO you are not being possessed.
We believe that Henry has the ability to be empathic, psychic, and can channel. We hope that Henry will follow his gift and learn to except it. We hope that one day that he will understand that maybe God sent us.
Belinda was not assigned to the case at first and neither was I. Henry called HPI and he called EGPI. Then Paul had assigned someone else to the case and yet we were all there for Henry. It's like the world aligned perfectly for us all to be there for him. We just pray he listens.
Article Copyright© Judy Raderchak - reproduced with permission.