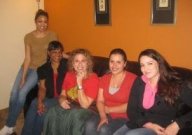 A haunting somewhere in Greenhaven
Posted on Wednesday, 25 January, 2012 |

0 comments
Columnist:

Paul Dale Roberts
Jan 20, 2012, Friday: Tonight I have an paranormal investigation somewhere in Greenhaven/Pocket Area – Sacramento, CA. I picked up one of my psychics/HPI Paranormal Investigators named Felicia Leyba and on our way we went. Greeting me at this apartment was Rachel Lee, the occupant and her friends Jinnae Johnson and Cara DeGregorio and Cara's energetic little son. While we waited for my other psychic/metaphysical cleanser and Senior Lead Investigator Stefanie Belson, I received a short briefing from Rachel. She tells me how the pictures from her wall came tumbling down one night. How sometimes she feels a presence and this presence will follow her around the apartment. Rachel started feeling a presence 2 months ago. Rachel's daughter has an imaginary friend named Gina. Rachel recalls that when she was younger, that she once saw something in her home's hallway and then it wasn't there. The strangest thing that happened to Rachel when she was young, is that she thought she saw her dad and heard him unlock her bedroom door. Her father told her to stay away from the light and then tucked her in. The only thing strange about this, is that her dad was not the one that did this. So it appears Rachel has had paranormal experiences, that have followed her from childhood to the present.
When Stefanie Paige-Belson arrived, we had a thorough briefing. Cara who herself has psychic abilities, felt something in Rachel's daughter's room. With my night vision goggles I was able to observe an oblong orb stroke Stefanie's shoulder. At the same time I was seeing this, Felicia took a picture of the same orb as it moved across the wall from Stefanie. Later with my night vision goggles, I saw an orb move across Stefanie's hand, as Stefanie was enticing the orb to touch her. Jinnae, Rachel and Cara felt an energy blast from the bedroom from where we were, that moved into the living room and knocked over the picture on the coffee table. Jinnae, Rachel and Cara all witnessed the picture being tipped over. We captured many orbs in our photos. Orbs are not a direct indication of the paranormal, unless we can show it has intelligent movement. Jinnae saw Rachel Lee's deceased uncle's face and while this occurred came across her deceased uncle's funeral flyer that has his picture on it. I saw an orb with my own eyes fly past Stefanie's leg while I was doing an EVP session. After several attempts in two bedrooms to get an EVP, I finally get an EVP after asking…"do you want to talk to us?" and the entity clearly says "no".
I felt this was definitely a 'Casper Haunting', the entity in this house is probably trying to get Rachel's attention by knocking over pictures from the walls and on the table. The entity is most likely a protective entity and may very well be Rachel's deceased uncle. With the EVP that we obtained and some of the unusual occurrences that we witnessed, I do believe this apartment to be haunted. I call this a Casper Haunting, because I feel the entity is benevolent and means no harm to Rachel and her daughter. Cara envisioned a fire or flames and my sister who lived in Greenhaven in the 80s says that one of the XXXXXX apartments did catch on fire, because a kid in one of the apartments set off some fireworks within the apartment during the 4th of July. My sister cannot remember what apartment complex it was, but it would be near the apartment where we were investigating. Stefanie did a metaphysical cleansing of the apartment and I went back home and waiting for me was psychic/Senior Lead Investigator Chantal Apodaca who is helping me analyze the photos.
To See Pictures From This Investigation, Stop By Here:
http://s970.photobucket.com/albums/ae185/PaulDaleRoberts55/GreenhavenHaunting/
Special Note: Felicia, Stefanie and Cara were on the mark on many issues of this investigation. I am not a psychic, but I do have some exceptional psychics on my team and I am truly proud of them.
Article Copyright© Paul Dale Roberts - reproduced with permission.