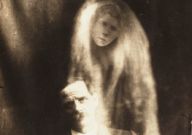 Demystifying the paranormal - part two
Posted on Thursday, 1 March, 2012 |

0 comments
Columnist:

Chris Broka
Having established the necessary conceptual vocabulary, I begin the mathematical development of our theory. While we know nothing about the details of the process, it seems safe to assume that the UTM, when it simulates our reality, or that of the ghost, is simulating the quantum mechanical states appropriate to that world and then deriving our conscious experience from these in some manner. (continued...)
To maintain the formatting of the equations and diagrams for this article we have made available a PDF version that can be either downloaded and opened in Adobe Acrobat or viewed in your browser.


Click here to read the full article in PDF format.
Part one of this series is also available to read -
here
.
Article Copyright© Chris Broka - reproduced with permission.