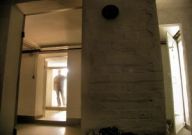 A haunting in Sacramento
Posted on Tuesday, 28 February, 2012 |

2 comments
Columnist:

Judy Raderchak
I got a call from a client whose name is Lisa. She explained to me that she had just moved into a home in Sacramento 3 months ago. The activity in her home started when she moved in. She told me that doors and cabinets open and close on their own and that unknown loud bangs would come from within the house. She said that her neighbor had informed her that at one point there was a drug raid in the house. Lisa also told me that in the garage there seems to be what looks like a blood splatter on a wall. She also found a hidden door on the floor in one of the rooms that leads underneath the house. She also explained to me that last Saturday her 6-year-old daughter saw something or someone crawling on the floor. The daughter was so frightened by what she saw that she refuses to sleep alone. They are very devout Catholics and need our help. Our investigation was set up for Saturday but last night I got a call from Lisa and she was in tears. She said her cousin was sleeping on the couch in the middle of the day and woke up to a loud bang. When he got up to check where the sound had come from he saw that some beads were shaking near her Jesus Statue. There will be a sage cleansing and a catholic blessing done in the home by Regina Tellez and myself.
Investigators:
Regina Tellez-Cleanser and videographer
Judy Raderchak cleanser, EVP
Renee Martine- psychic and EVP
Felicia -photographer, EVP
Mandy-guest investigator; videographer
We arrived at the home at 7pm. We sat in the living room and listened to Lisa, her son, and her cousin telling us what paranormal activity had gone on in the home. During the conversation I asked psychic Renee Martine to walk through the home. She picked up on a young mexican man with a scar on his face as well as an old white male spirit.
We started the investigation by splitting the group, Regina and Renee went into the back bedroom to do some EVPs.
Felicia Mandy and I examined the door hidden on the living room floor. The floor was covered up with carpet so we went outside to see if there was another access underneath the house. No access could be found. We advised the owner to have them come out and take a look at the floor. We checked the 'blood' splatters in the garage and took some samples. It appeared that is was a particle of dirt. We took several pictures and caught some white orbs and one blue orb in the son's bedroom.
Evidence:
We recorded some EVP's while listening to the live feed and you could hear tapping on glass and movement within the kitchen area and near the Jesus statue in the living area. We all investigated the son's bedroom and picked up an EVP there as well. Renee asks 'Do you wants us in this room?' to which we get a clear 'No' in response and it sounds like a little girl or a young female. We were told that in the young girl's room that a balloon had moved and bounced on its own. We tested out the balloon and notice there was a little movement but it was most likely normal air movement or heat coming from a light fixture nearby. As we went in to the living room I saw someone down the hallway and then the cat responded by looking down the hallway as well. On the video we capture a head move out from the doorway. We debunk it possibly being one of the family members. We did pick up whispers on the EVP but could not figure out where it had come from.
Personal experiences:
When I saw the blue orb I said 'It's Michael' like the arch angel Michael. Later we found that a cousin to the family had been shot down the street and his name was Michael. It was a strange coincidence. When Felicia heard about a relative named Mario who was killed she got the chills and had to walk out of the bedroom. Lisa's cousin had told me that while taking a nap on the couch he was woken up by a loud bang so I sat on the couch. As I did so I listened to the live feed and heard a deep voice say 'Don't go over there'. According to Lisa, her house rule is that no-one but her is allowed on the furniture.
After the investigation the client had felt that a cleansing was needed. Regina Tellez sage the house and I did a catholic blessing. I called the client a few days later and they are very happy with the results.
Article Copyright© Judy Raderchak - reproduced with permission.