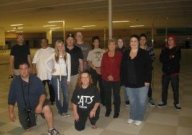 Sacramento store haunting
Posted on Tuesday, 20 November, 2012 |

1 comment
Columnist:

Paul Dale Roberts
Date of the Investigation: Nov 2, 2012. Friday // Date to be there: 1900 Hours // Credit for this Case: Case Manager: Jon Koyasako. Spirit Halloween Store - at Laguna Blvd and Bruceville, Elk Grove, CA - 7707 Laguna Blvd, Elk Grove, CA - Laguna Crossroads Shopping Strip Mall. It would seem logical that this place would be haunted, it's next to the haunted Wetlands, in which Portuguese settlers would park their caravans at the clumps of Eucalyptus trees. The Eucalyptus trees were used as wind breakers for the caravans. Many of these settlers had cholera and this was known as the Sacramento Cholera Epidemic of 1850. Many died in the Wetlands and surrounding farm houses in this location. In the Laguna Creek Wetlands, there have been reported sightings of a white floating mist. People have heard a small female child whimpering and crying. Neighboring high school kids have called the whimpering female entity - Crying Molly.
HPI Paranormal Investigators Present: Deanna Bailey - Lead Investigator/Sensitive; Jon Koyasako - Lead Investigator/ Security/ Case Manager; Alaceo 'Big Al' Rosatano - Videographer; Kara Koyasako/ Counselor/Sensitive; Mark Mummert/Technician; Shari Aresta - EVP Queen/ Lead Investigator; Marissa Selby; Jessika Davis.
HPI Paranormal Scouts Present: Larry Busse/ Manager's husband; Justine Busse/ Manager's daughter; Tirzah Thomas; Mickey Cardoza; Jackie Espinosa; Richard Rivas; Larry Baty.
ACTIVITY LEVEL AT THE SPIRIT OF HALLOWEEN STORE:
Employees hear doors slamming, they hear footsteps. Some of the employees talk about getting goosebumps when they enter certain areas of the store. Another odd sound they hear is pieces of metal being kicked around. Shadow figures have been seen. They hear knockings and bangings. One employee tells us that they felt a cold spot brush up against their body. Employees hear walking on the roof. Some employees have heard a girl crying, could this be Crying Molly?
HOTSPOTS:
This place is HUGE. There is a lot to explore. Hotspot #1 is the long dark hallway and all of the connecting rooms. Hotspot #2 is the 2nd tier wing that leads to the roof. Hotspot #3 is the electrical room. Hotspot #4 is the open dark warehouse corridor.
EQUIPMENT:
We have K2 meters, digital cameras, digital recorders, video cameras, EMF Readers, Night Vision Goggles, walkie talkies. I have the scouts working with the seasoned paranormal investigators.
FIRST INVESTIGATIVE EVIDENCE SESSION:
Larry Baty - independent ghost hunter that has worked with St. Louis Ghosthunters Society and Paranormal Task Force captured a humming EVP. Larry Busse got scratched on his right arm. Jon Koyasako is capturing orbs, designer orbs in his photos. Jon saw a fast shadow move across the mirror. Big Al captures a 'yes' EVP, a 'ya' EVP and an EVP that says 'Jackie'. Jackie, had her foot grabbed and when an investigator took a picture of her foot, there was a light around her foot. A photo of a vortex was taken in the hallway. Marissa felt strange as she entered some of the rooms and received high spikes on her K2 meter. Marissa and Jessika used Portuguese words to communicate to the entities, since most likely they are Portuguese settlers. A 'hum' EVP was captured by one of the investigators. Mumbling word sounds are being heard in the ears of some of the investigators. A 'banging sound' EVP was captured. Some batteries are being drained unnaturally. Mark's RI camera shuts off instantly when an EVP is captured. One scout says he was touched twice.
SECOND INVESTIGATIVE EVIDENCE SESSION:
This place got completely active, bangings on the wall, voices down the hallway that we can hear with our ears. We captured 9 EVPs of voices that are mumbling (unintelligible). On one of the back doors I saw a head pop out from the door and go back in, the head was only 2 1/2 feet from the floor. At the time I saw this little head peeking out, 2 investigators captured an Class A EVP that says: "Get in here, they're watching me." More photos of orbs, designer orbs, black mass and vortex type of photos.
THE REVEAL:
I believe there is a lot of residual energy here of former SaveMart workers that exerted their energy in working at this massive former supermarket. I also believe there are intelligent entities here, due to the fact we captured so many EVPs. Also, when I saw the head popping out, we get an EVP in that area at the same time I saw the head popping out, in which the entity says..."get in here, they're watching me." This coincides with my sighting of the entity. There is no doubt in my mind that this place is haunted.
Article Copyright© Paul Dale Roberts - reproduced with permission.