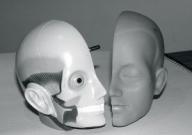 Psychic ability and psychology
Posted on Wednesday, 13 November, 2013 |

0 comments
Columnist:

Kathleen Meadows
I receive several emails each month asking me how I knew I was psychic. They have psychic senses too (or think they do) and want to know how to understand them, what to do with them, and foremost, if what they are experiencing is normal.
Psychic perception is a human trait that everyone possesses. There are differences in the strength and type of psychic perception just as there are between people and physical perception. Some people have more acute hearing, or keen eye sight or more sensitivity to pain and pleasure. The point here is that understanding the mechanics of our physical senses will help you to understand your psychic senses better too.
It's always been assumed that it is in the field of psychology that we'll find a solid, mutual ground in which to research psychic ability. I disagree. Psychology is a study of the inner experience. Our personal memories, feelings, and thoughts. Psychic and physical sensory perception are the means in which outer/objective information is taken in.
What we do with the information once it has entered our inner world is the concern of psychology. Aligning psychic perception with psychology is what has slowed down the research in the field for a number of reasons. There is always the risk that a person's psychic perception will be given a psychological diagnosis and treated as such which really only depends on your simple dumb luck in taking your psychic perceptions to the right psychologist! In relation to research this has kept possibly hundreds of thousands valid psychic perceptions out of reach of researchers working in this field.
Psychology as a relatively new science has been on the defensive to prove itself a valid scientific endeavour. This defensive stance has also contributed to a loss of potentially thousands of accounts of psychic perceptions. Psychologists fear reprisal and stigma from their peers for going down a path of the psycho/spiritual.
In studying psychic ability your first stop should be understanding how your physical senses function. Are you an intuitive or sensory person? Are you a feeling or thinking dominant person? Understanding these dominant orientations will help you to recognize how psychic perception enters your biological system and what you do with it when it does. Notice I didn't use the term "brain" and the reason for that is because psychic perception can be held in any part of your body. Some people feel it in their stomachs, or their muscles.
Kathleen Meadows, M.A.
http://www.tarotbykathleen.com
Article Copyright© Kathleen Meadows - reproduced with permission.
---
If you are interested in the esoteric sciences and psychic ability development you will find the articles on my web site an interesting read. Visit my web site Exploring the Psychic Experience.