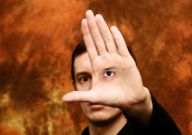 Review: Extraordinary Knowing
Posted on Tuesday, 21 January, 2014 |

1 comment
Columnist:

Kathleen Meadows
A while ago, I was asked to do a tarot reading for a university professor. A somewhat uncommon request. I don't get a lot of university professors, doctors, lawyers or professionals requesting a psychic reading whether it's tarot or any other methodology. I do get a few however, and they always want absolute promises and assurances that our work together will remain strictly confidential. They believe but they don't want anyone else to know they believe. There remains a lot of prejudice against the practice among the more logically oriented of the professional group.
I do have other professionals asking for readings with much more equanimity; such as, nurses, social workers, chiropractors, naturalpathic practitioners, and massage therapists. They seem to be more open to the notion that the unseen world is accessible through unusual means and the guidance offered will be like no other they might acquire through other avenues. I probably get more requests from professionals than most because of my Master's degree in Religion and Culture.
This particular university professor said he wanted a reading on a woman he'd been in love with for some time. They lived half way around the world from each other and only connected briefly every so many months. He wanted to know if that situation would ever change. Would they have an opportunity to really make go of it, for example by living together in the same country. He said he had searched the net for a reputable psychic because of a book he'd read recently titled, "Extraordinary Knowing" by Elizabeth Lloyd Mayer, Ph.D.
He advised me to read that book, declaring enthusiastically that I would, "love it". I did buy a copy and have read it a few times. If you are interested in telepathy, clairvoyance and anything psychic you would love this book too. Elizabeth died shortly after the book was published which is a sad loss for all of us. I have little doubt there were many more books on the subject of the paranormal in her to be brought into the world.
Elizabeth became fascinated with all things psychic after her son's violin was stolen at a concert. A beautiful and rare instrument, they were both devastated at the loss. She did everything in her power to recover the violin and in the end she turned to a dowser for help. The dowser identified where the violin was presently residing. Elizabeth promptly put up posters in the area. She described the violin offering a substantial reward with no questions asked. Within a few days, she received a call with an invite to meet to do an exchange, the reward for the violin.
This led Elizabeth on a journey of exploration into the psychic sciences. Her journey was extensive and scientific. She takes the reader into the worlds of remote viewing, dreams, telepathy and the whole field of paranormal research. She wonders often throughout her book why so much of this authentic scientific material has been buried, squelched, and obviously suppressed. I've wondered that too for a long time. Is it the church's influence? After all they have managed to squelch a lot of movie productions such as any follow up sequences to The Compass. Is it the governments' work? Maybe all of them are in on this one.
The truth is that the paranormal does exist and if you're interested in reading a book that pulls all the research together in one easy-to-read text you would enjoy Elizabeth's book. The book of course is out of print but you should be able to find a copy online through various used books sites.
Kathleen Meadows, M.A.
http://www.tarotbykathleen.com
Article Copyright© Kathleen Meadows - reproduced with permission.
---
If you are interested in the esoteric sciences and psychic ability development you will find the articles on my web site an interesting read. Visit my web site Exploring the Psychic Experience.