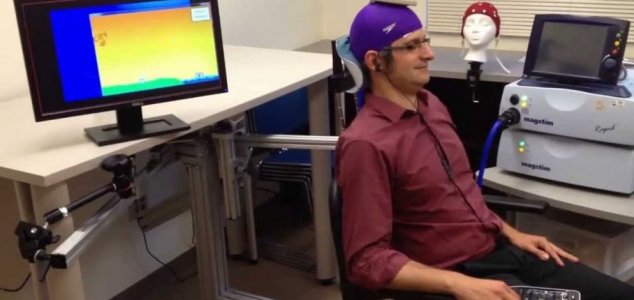 One researcher was able to move the other's hand.

Image Credit: YouTube / University of Washington
Researchers at the University of Washington have built a working human-to-human mind control system.
Previous mind control research has enabled brain-to-brain communication between rats but it is believed that this is the first time such a system has been successful with human subjects. The remarkable experiment was conducted by Rajesh Rao and Andrea Stocco who captured the whole thing on video.
Rao was equipped with a special cap fitted with electrodes that were hooked up to a machine capable of reading electrical activity in the brain, while Stocco sat at the other side of the campus with a transcranial magnetic stimulation coil placed over the region of his brain responsible for hand movements.
For the experiment Rao would look at a screen and play a simple computer game that involved firing a cannon, but instead of actually pressing a button he instead imagined his right hand moving to do so. Across campus, Stocco, who was unable to see or hear the game, felt his hand moving in correlation to Rao's thoughts, a sensation that he likened to a nervous tic.
"It was both exciting and eerie to watch an imagined action from my brain get translated into actual action by another brain," said Rao. "This was basically a one-way flow of information from my brain to his. The next step is having a more equitable two-way conversation directly between the two brains."
Source: University of Washington | Comments (9)
Tags: Mind Control, Brain